Goldcorp Sticks to Forecasts as New Mine Hiccups Absorbed
Weaker currencies are lowering costs $20 to $40 an ounce

U.S. assets being sold by Barrick not attractive to Goldcorp
Goldcorp Inc., North America's largest gold miner by market value, reiterated its production and costs forecasts for this year as Latin American mines help counter minor setbacks at its newest operation in Canada.
"We're still comfortable with the upper end of our guidance range as we said in the second quarter," Chief Executive Officer Chuck Jeannes said in an interview Monday from the Denver Gold Forum. He was referring to a production projection of 3.3 million to 3.6 million ounces for 2015.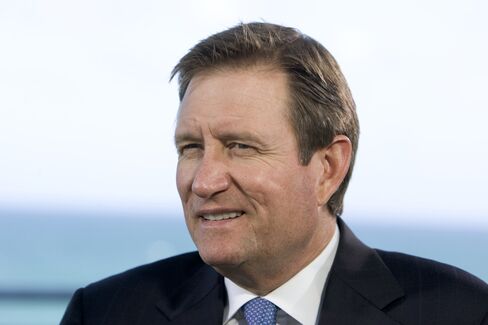 Earlier this month, Goldcorp cut its production forecast for the Eleonore mine in James Bay, northern Quebec, citing higher-than-anticipated "folding." Jeannes said Monday that only a small percentage of the ore body is being affected, and other mines are performing strongly.
"You look at the first-half numbers and you can see both Penasquito and Cerro Negro are doing very well," he said. "That's the beauty of a portfolio: when one of them slips a little bit you can rely on others."
The Vancouver-based miner also is "very comfortable" with its $1.2 billion to $1.4 billion capital expenditure guidance, as well as an all-in sustaining cost forecast of $850 to $900 an ounce, he said.
Share Slump
Goldcorp shares were down 32 percent in Toronto in the year through Monday, compared with an average 24 percent decline by peers tracked by Bloomberg. The stock fell 4.2 percent to C$16.85 at the close on Tuesday.
"A key catalyst for Goldcorp to recoup the underperformance through H1/15 relative to peers will be to show investors a clear path to meeting 2015 objectives," BMO Capital Markets analysts wrote in a preview of the Denver conference dated Sept. 16. Jeannes is scheduled to make a presentation at the forum on Tuesday.
Currency Effect
Weakened currencies in countries such as Canada, Latin America and Australia are helping miners meet goals even as metal prices slump. For Goldcorp, the foreign exchange moves mean all-in sustaining costs $20 to $40 an ounce lower, although that's somewhat offset by lower byproduct prices, he said.
Gold prices, down more than 40 percent from 2011 peaks to $1,124.80 an ounce on the Comex in New York, seem to be finding a support level with physical demand strong and investment demand appearing to have reached a bottom, Jeannes said. What the market needs now is clarity on U.S. interest rates, he said.
Meanwhile, the longer prices stay around current levels, the more the industry will consolidate, with deals most likely among smaller and intermediate-sized companies, he said.
While Jeannes "never stops looking" for acquisition opportunities, the U.S. mines being marketed by Barrick Gold Corp. wouldn't be the kind of assets that attract Goldcorp, he said.
(A previous version of this story contained an incorrect year in the second paragraph.)
Before it's here, it's on the Bloomberg Terminal.
LEARN MORE