Cheapest Gulf Stocks Get No Respect as Bahrain Trading Wilts
Daily value of trades in Bahrain dropped as low as $42,000

Bourse started Islamic index in bid to attract investors
Bahraini stocks are among the cheapest in the world. That hasn't stopped the value of trades dropping as low as an elementary school teacher's salary.
The BB All Share Index has declined 25 days out of 29, is trading near the lowest level since January 2014 and hasn't closed 1 percent higher on any day this year. The 12-month daily average value of shares changing hands is less than $2.5 million, compared with $217 million on the main market in Dubai, its rival as a Middle East business hub. Trading has fallen as low as $42,000 in 2015, according to data compiled by Bloomberg.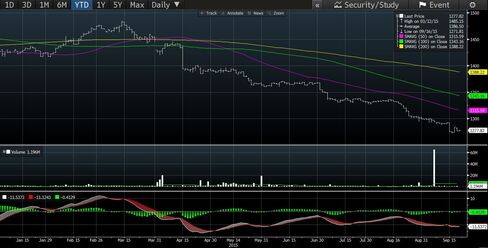 "Liquidity is drying up across the region, so small markets like Bahrain are usually the first to suffer," said Fadhel Makhlooq, the head of brokerage at Manama, Bahrain-based Securities & Investment Co. "It doesn't make sense to buy stock if you can't sell it when you want. Foreign investors need about $2.5 million minimum daily turnover in any stock in order to even start considering the name. That's become very rare here."
The smallest member of the six-nation Gulf Cooperation Council and host to the U.S. Fifth Fleet, Bahrain relies on the financial industry for as much as 17 percent of economic output and counts on some of the most liberal business regulations in the region to attract investment. The island kingdom, which suffered unrest following the 2011 Arab Spring, has seen some banks leave or reduce operations. The nation announced on Thursday the formation of a "mini cabinet" to tackle its financial problems after the price of Brent crude sank more than 50 percent in 12 months.
The slump in Bahrain's equities has cut the 12-month forward price-to-earnings ratio for its stocks in MSCI Inc.'s frontier markets index to 7.6 times, fourth-lowest among members of the gauge and cheaper than all emerging markets except Russia, according to data compiled by Bloomberg. The BB All Share Index's 14-day relative strength index is at 24, having fallen below 30 -- the threshold signaling that an asset may be oversold -- more than a month ago.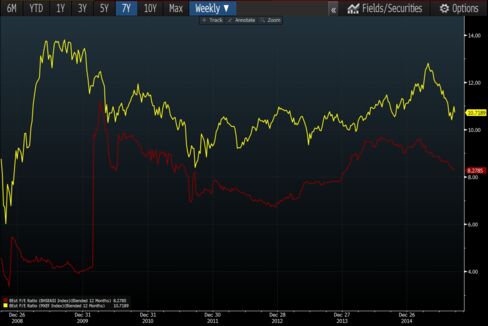 To help boost trading volumes, the bourse started an Islamic index this month comprised of 17 Bahraini-listed Shariah-compliant companies. Chief Executive Officer Khalifa Bin Ebrahim Al Khalifa said "we at the bourse hope" that the gauge helps attract more investors.
"It's a question of breadth versus depth," Shaikha Sameer Alzayani, the head of listing and issuer affairs at the Bahrain Bourse, said in an interview at the Arab IPO Summit in Dubai last week. The index is "targeting new clients that put more emphasis on dealing in the Islamic and Shariah-compliant shares," she said.
Before it's here, it's on the Bloomberg Terminal.
LEARN MORE