The spillover from last week's Federal Reserve policy meeting is still being felt across equity markets. The MSCI All-Country World Index fell for a second day, after dropping 1.2 percent on Friday. Asian stocks, excluding Japan which is closed for a public holiday, sank the most since Sept. 1 on concern about global growth. Expectations for a U.S. rate increase in 2015 are receding. According to futures contracts the probability of a move in October stands at 20 percent, down from 44 percent last Wednesday. The odds of a boost in December has dropped to 47 percent, from 64 percent before the Fed announcement.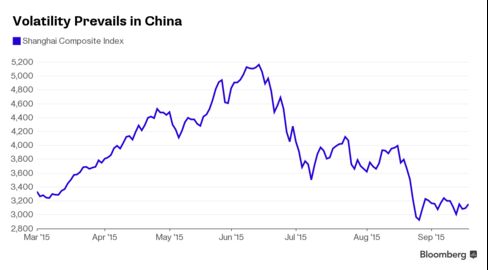 Chinese stocks bucked the declining regional trend, yet volatility persists. The Shanghai Composite swung between a loss of 1.2 percent and a gain of 2 percent. The gauge closed 1.9 percent higher, after falling 3.2 percent last week amid the biggest price swings since 1997. President Xi Jinping heads to the U.S. for his first state visit, as a private survey says the gloomy assessment of the world's second-biggest economy is overdone. The third-quarter Beige Book from New York-based research group CBB International says it's a myth the nation's slowdown is intensifying.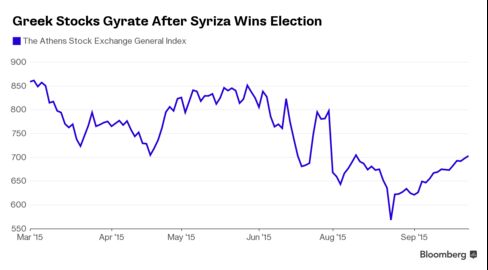 Greek stocks fluctuated after elections swept Alexis Tsipras and his Syriza coalition back into power. The electorate embraced the man who came to power in January pledging to end austerity. He now has to slash spending and increase taxes in exchange for 86 billion euros ($97 billion) of fresh European aid. Syriza won 35.5 percent of the vote, about one percentage point less than its share in January. The ASE Index has rebounded 23 percent since it slumped to a three-year low on Aug. 24. That makes it the best-performing primary equity gauge in the world after Latvia's OMX Riga Index.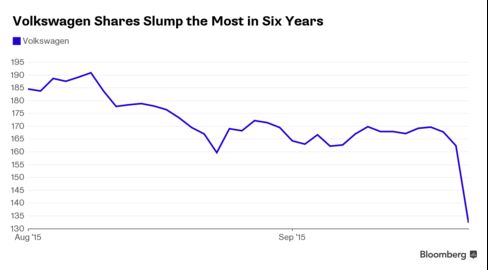 Volkswagen plunged as much as 22 percent after Europe's biggest carmaker admitted to cheating on U.S. air pollution tests for years. The drop, the largest since January 1999, wiped some 15 billion euros from its market value. The violations could result in up to $18 billion of fines as well as potential criminal charges for executives. CEO Martin Winterkorn said he was "deeply sorry" for breaking the public's trust. Volkswagen shares have sunk by about half since hitting a record in March.
Mark Barton is a presenter on Bloomberg TV. Follow him on Twitter @markbartontv
Before it's here, it's on the Bloomberg Terminal.
LEARN MORE