Brazil's Real Near 4.00 per Dollar Again Confronts a Vicious Cycle
Brazil's currency is taking an ugly trip against the dollar.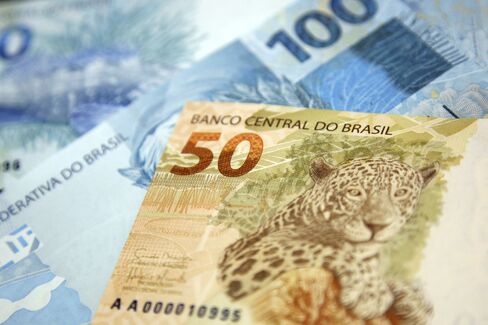 It is the ugliest of round-trips for Brazil.
It is near-13 years on from December 10, 2002, and a weak Brazilian real of 4.0040.
Again, we move toward the 4.00 level today.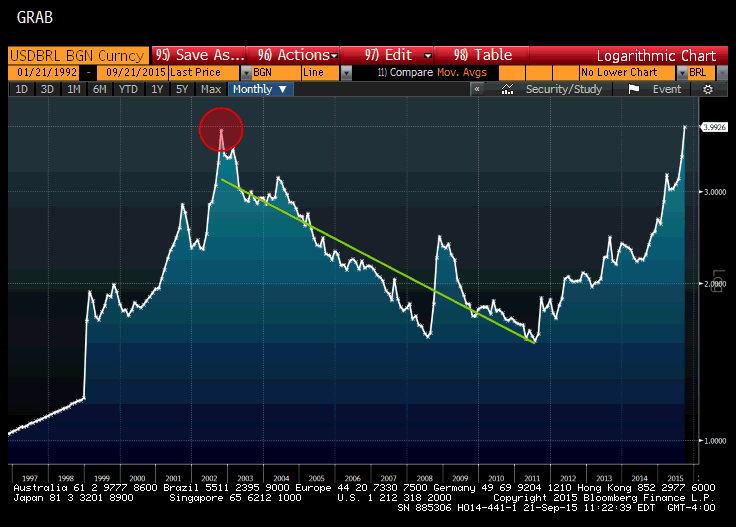 Here is a logarithmic chart of USD-BRL. As it is semi-log, slope matters. At this moment, the Brazilian real looks like a moonshot toward some unknown. This morning on Bloomberg Surveillance, Ruchir Sharma made a sharp distinction between Indonesia and Brazil, making clear that Brazil has substantial challenges.
"Inflation remains very high, and we are not sure that the tightening cycle has ended yet," writes Marc Chandler's Brown Brothers Harriman team. "The external accounts are improving, but it's from the import side as the economy collapses." The real has depreciated 60 percent since its last breath of strength in 2011.
"Brazil's current woes are a chronicle of a crisis foretold," writes Monica de Bolle, of the Petersen Institute for International Economics, in an exquisite note on public development banks and their harm to Brazil. "Brazil is trapped in a complex web of fiscal and quasi-fiscal entanglements. Following several years in which these problems were either hidden from view by the afterglow of the commodity boom that ended in 2011 or justified on the basis of anticyclical policy needs, they now have come to a head. As a country faced with severe growth constraints associated with a political crisis, structural bottlenecks, and macroeconomic imbalances, it is unclear how it will exit from what some have dubbed the perfect storm."
Dr. de Bolle suggests Brazil is in a vicious cycle.
Discuss Viciously.
Before it's here, it's on the Bloomberg Terminal.
LEARN MORE