Abe's Public Approval Slumps After Security Bills, Polls Show
Nikkei sees approval down 6 points to 40%, Yomiuri down to 41%

Polls follow passage of legislation expanding military role
Prime Minister Shinzo Abe's public approval ratings declined after the passage of legislation allowing Japan to send troops to fight in overseas conflicts for the first time since World War II.
Polls conducted on Sept. 19 and 20 by Japan's major newspapers showed that support for Abe's cabinet fell or languished at lows, while disapproval ratings exceeded those in support in every survey, including ones by the Asahi, Yomiuri and Mainichi.
A poll by the Nikkei newspaper showed that the Abe cabinet's approval rating dropped six percentage points from August to 40 percent, while disapproval was at 47 percent. Only 31 percent were in favor of the new security law, compared with 54 percent that were opposed to it, according to the Nikkei.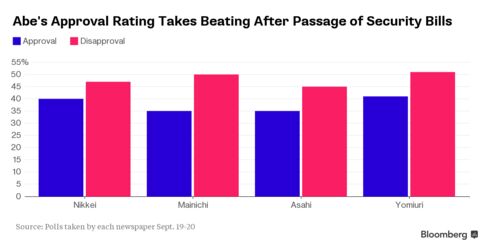 Despite months of protests, the bills passed early on Saturday morning. They allow the military to defend an ally under attack and take a bigger role in international peacekeeping. Abe says the measures will improve deterrence and protect the nation from growing regional threats. Critics say the bills could end seven decades of pacifism and risk drawing Japan into U.S.-led conflicts.
For more, read this QuickTake: Japan's Military
Before it's here, it's on the Bloomberg Terminal.
LEARN MORE