'Game of Thrones' Emmy Win Completes Dominant Night for HBO
Transgender series `Transparent' wins two awards for Amazon

Viola Davis is the first black woman to win top acting Emmy
HBO's "Game of Thrones" was crowned television's best drama, garnering its first major Emmy award in five tries on a night that Time Warner Inc.'s premium cable channel won more awards than every other network combined.
The series, based on an unfinished series of novels by George R.R. Martin, is one of the most-watched dramas on premium cable, and HBO says it's the most popular TV show in the world. HBO won 14 awards during the 67th Emmy Awards, broadcast live Sunday on the Fox network from the Microsoft Theater in downtown Los Angeles.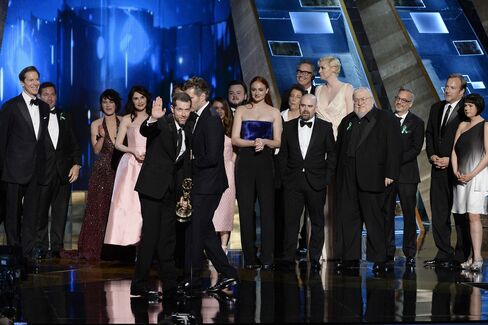 HBO maintained its dominance of the annual honors for the year's best TV, fighting off new players like Amazon.com Inc. and Netflix Inc., along with the rest of broadcast and cable. The network returned to the winner's circle in the top category of best drama for the first time since 2007, when it won for the final season of "The Sopranos."
"HBO, in their wisdom, paired a couple of novice producers with people of
experience," co-creator David Benioff said from the stage. "Thanks again HBO for believing in dragons."
"Game of Thrones" won four awards on the night and 12 total, including Creative Arts Emmys for categories like makeup and editing that were given on Sept. 12. It was the best showing ever for the series about warring families in the fictional land of Westeros. In past years, "Game of Thrones" earned a number of technical prizes, but it failed to win any in the higher-profile categories handed out at the televised event.
Comedian Tracy Morgan presented the best-drama trophy, making his first public appearance since he was injured in a car crash in June 2014.
The annual Emmy awards coincide with the debut of new and returning shows for major broadcast and cable companies and is a platform to promote their best hits and stars. The audience for this year's telecast, which ran against a National Football League game, fell 14 percent among viewers aged 18 to 49, according to figures distributed by Fox. The total audience dropped about 24 percent to 11.9 million. Last year's telecast on NBC drew 15.6 million total viewers.
HBO won its major awards for three shows -- "Veep," "Game of Thrones" and "Olive Kitteridge." "Olive Kitteridge," a four-hour miniseries based on the novel of the same name, was the most-lauded show of the night. Frances McDormand won an Emmy for her performance as the title character, a retired school teacher who suffers from depression, bereavement and jealousy.
"Veep," a parody of American politics adapted from a British satire, won four awards, including the top comedy prize. Julia Louis-Dreyfus won the lead actress Emmy for her performance as President Selina Meyer, her fourth consecutive win.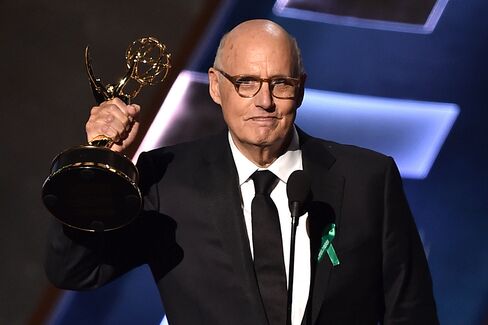 The series vied for top comedy prizes with "Transparent," in which Jeffrey Tambor plays the patriarch of a Los Angeles family who reveals to his children that he has long felt he's a woman and is going to dress like one. Tambor and creator Jill Soloway delivered Amazon.com Inc. its first major Emmy awards.
Transgender Rights
Soloway won the award for directing, one of 11 nominations the show received. Both Tambor, who own for acting, and Soloway called out Amazon and advocated for transgender rights in their speeches.
"I'd like to dedicate my performance to the trans community," Tambor said. "Thank you for your patience, thank you for your courage, thank you for your stories, thank you for your inspiration, thank you for letting us be part of the change."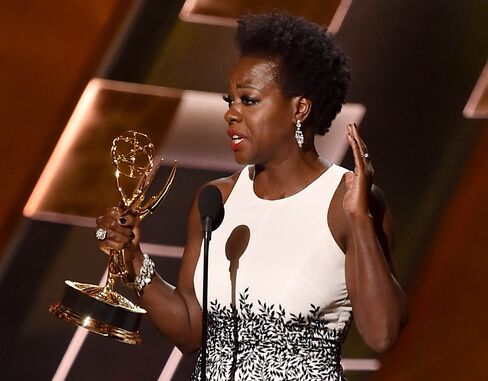 Commentary on transgender rights, sexism and ageism recurred throughout the evening, beginning with jokes in Samberg's opening monologue and culminating in Viola Davis' acceptance speech for her performance in "How to Get Away with Murder." Davis is the first black woman to win the Emmy for best leading actress in a drama.
"The only thing that separates women of color from anyone else is opportunity," Davis said during a speech in which she quoted abolitionist Harriet Tubman. Davis went on to thank fellow black actresses Taraji P. Henson and Kerry Washington, as well as ABC executives Paul Lee and Ben Sherwood.
Allison Janney won the only comedy Emmy that didn't go to "Transparent" or "Veep," taking home an award for her supporting role in the CBS series "Mom."
The Emmy was the seventh for Janney, who has garnered awards for "The West Wing," 'Masters of Sex" and now her second for "Mom." That ties her with Ed Asner and Mary Tyler Moore for the most awards of any actor or actress in Emmy history.
Jon Hamm earned his first Emmy for his portrayal of Don Draper on AMC Networks Inc.'s "Mad Men," after being nominated seven times without a win. "Mad Men," which won the best drama prize its first four years on the air, was shut out of the other major categories.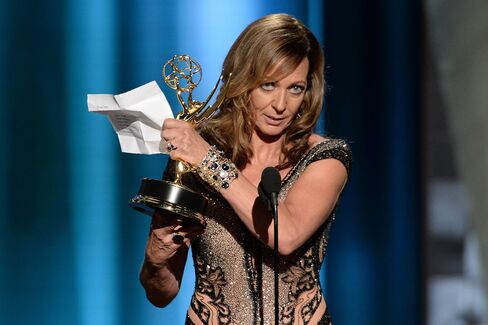 HBO headed into the show with 126 nominations, three times more than any other network. It aired three of the four shows with the most nominations, including "Game of Thrones."
The fantasy series led the Emmy nominations with 24 after completing its fifth season in June. The conclusion drew the show's largest audience ever at 8.1 million viewers. It's based on George R.R. Martin's book series "A Song of Ice and Fire" about noble families fighting for control of Westeros.
HBO's good fortune with "Veep" meant the end of a run for "Modern Family," which has already won the best comedy Emmy five times for Walt Disney Co.'s ABC.
Backstage, "Veep" creator Armando Iannucci summed up the night: "We've made history in it being the first time we've won for best comedy. In many ways, the tradition is maintained."
Before it's here, it's on the Bloomberg Terminal.
LEARN MORE