Turnbull's Ministry Sworn In as Abbott Loyalists Ditched
Morrison promoted to Treasurer as Hockey quits parliament

Number of women in Australian Cabinet boosted to five from two
Australian Prime Minister Malcolm Turnbull's new ministerial team was sworn in Monday after he promoted women and younger lawmakers to replace figures loyal to his predecessor, Tony Abbott.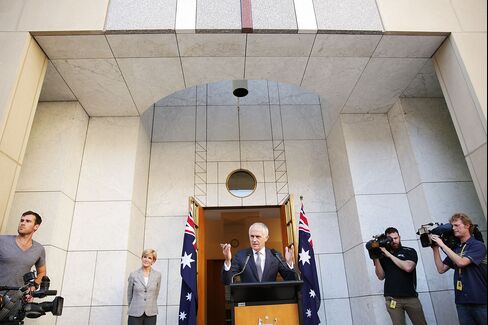 Scott Morrison, 47, was named treasurer, charged with creating an economic narrative for shoring up growth in the post-mining boom economy. Marise Payne, 51, became the country's first female defense minister, and will oversee plans for a new fleet of submarines. Kelly O'Dwyer, 38, was appointed assistant treasurer and minister for small business as Turnbull boosted the number of women in the Cabinet to five from two.
"There was a sense that he needed to freshen the ministry," said Haydon Manning, a politics professor at Flinders University in Adelaide. "Turnbull is addressing the perception that women are unwelcome in a coalition government. But he also had to tread carefully as the party has a lot of wounds and the last thing he can afford is sniping from disaffected conservatives."
Leadership Battle
Turnbull, 60, who defeated Abbott in a ballot of Liberal Party lawmakers on Sept. 14, is seeking to overhaul the government as he attempts to turn around slumping poll ratings ahead of elections due in late 2016. At the same time, he must avoid worsening divisions within the party and appease a large group of lawmakers who voted for Abbott to stay in the top job.
Julie Bishop, the Liberal Party deputy leader who turned against Abbott and stood with Turnbull in the ballot, remains foreign minister. Joe Hockey, 50, who had served as Treasurer under Abbott, didn't seek a position in the new Cabinet and will quit parliament after almost 20 years as a lawmaker. Hockey will be named the next ambassador to the U.S., the Australian Financial Review reported, without saying where it obtained the information.
Four other members of Abbott's Cabinet were dumped. They were Defense Minister Kevin Andrews, Employment Minister Eric Abetz, Industry Minister Ian Macfarlane and Small Business Minister Bruce Billson.
Trade Minister Andrew Robb, Finance Minister Mathias Cormann and Environment Minister Greg Hunt were among those to retain their roles. Other ministerial appointments include:
Christopher Pyne as industry, innovation and science minister.
Michaelia Cash as employment minister.
Simon Birmingham as education minister.
Christian Porter as social services minister.
Arthur Sinodinos as Cabinet secretary.
Josh Frydenberg as resources, energy and northern Australia minister.


Turnbull told reporters in Canberra Sunday his new team would be a "21st Century government and a ministry for the future."
"My government has a major focus on tax reform," Turnbull said. "The tax system is one of the key levers the government has to promote economic activity."
Abbott had faced criticism for having too few women in his Cabinet and keeping older ministers who'd served in the previous coalition government that ended in 2007. The result was a ministry that was supposed to look experienced, but instead came across as outdated.
Scrapping Science
The former leader was also criticized for initially scrapping science from ministerial portfolios. Education and science lobbyists welcomed the renewed focus on those areas by Turnbull. His background in investment banking and the early era of Australia's Internet industry are giving optimism he will be an innovative prime minister, political analyst Stephen Stockwell said.
"Australia will have the benefit of Turnbull's business acumen, which has been about identifying new opportunities in rising industries and new technologies," said Griffith University's Stockwell. "There's certainly an appetite for a government that gets the nation's need for innovation after that seemed to falter under Abbott."
New Women
Payne, who had served for two years as human services minister under Abbott, will set out a defense white paper later this year outlining Australia's security priorities, Turnbull said. The New South Wales senator, who joined the Senate in 1997, previously worked as a political and public affairs adviser.
O'Dwyer will attend Cabinet alongside Bishop, Cash and Payne, Turnbull told
reporters, boosting the number of women in his top team. Sussan Ley retains her post as health minister.
Adding Sinodinos, 58, as a key strategist inside the Cabinet is expected to bolster its functionality, which was seen to suffer under Abbott. The senator has had roles with the Commonwealth Treasury and Department of Finance, and for nine years was chief of staff to former Prime Minister John Howard.
The new leader's appointments followed his party's victory in a special election held Saturday in Canning, Western Australia, with results indicating Turnbull has helped to reduce a voter backlash against the government.
Former Special Air Service Regiment army captain Andrew Hastie was projected to win in Canning by 55 percent to 45 percent on a two-party preferred basis, according to the Australian Electoral Commission's website. That equates to a swing against the Liberal Party of 6.4 percent, the commission said.
Opinion polls before Abbott's ouster had indicated the Liberals would retain the district in the vote -- triggered by a lawmaker's death -- with a greatly reduced margin as the public registered discontent at a government marred by internal divisions and slowing economic growth.
The result was "a great win" for Turnbull, who now will be focused on crafting a platform for Australia's next national election, Finance Minister Cormann said Sunday in an interview with Sky News Television. "The party as a whole will turn its mind to a second-term agenda, a policy agenda that we would take to the next election."
Before it's here, it's on the Bloomberg Terminal.
LEARN MORE