Hockey to Quit Parliament After Being Dumped as Treasurer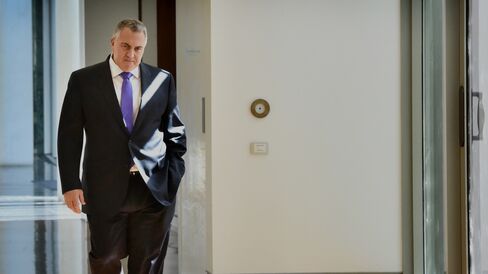 Two decades as MP enough after leadership change, Hockey says

Turnbull names Morrison next Australian treasurer in reshuffle
Joe Hockey will quit parliament after being dumped as Australian treasurer, just days after Malcolm Turnbull took over as prime minister criticizing the government's management of the economy.
"I advised the prime minister that I did not wish to continue as a minister in the government and that it is my intention to resign from the House of Representatives," Hockey, 50, said in a statement on Sunday. He will be appointed the next Australian ambassador to the U.S., the Australian Financial Review reported, without saying where it obtained the information.
Turnbull's new ministerial lineup will be sworn in by the governor-general Monday, a week after he ousted Tony Abbott as prime minister.
Gaffe-prone Hockey, who failed to push ahead with major structural reforms that business leaders say are needed to foster growth, presided over unemployment that reached a 12-year high and a plunge in business investment. Having promised to end the "age of entitlement" before he took office in 2013, Hockey struggled to rein in the budget deficit by controlling spending.
Hockey was replaced as treasurer by former Social Services Minister Scott Morrison, 47.
Confused Message
The government's economic message became increasingly confused during Abbott's two years as prime minister.
Hockey's first budget in May 2014 sought to slash spending. As the unpopularity of that program became more politically problematic, Abbott and Hockey ditched many of the planned cuts and delivered a "dull" second budget. Indeed, Abbott said fiscal problems that he called an emergency prior to his election were now manageable.
The government also struggled to push ahead with reform. Contentious policies were sent to review committees while Hockey and Abbott signaled that changes in taxes, labor relations and pension savings would be unlikely before elections due late in 2016.
Hockey's top economic bureaucrat warned last month that reforms like increasing competition shouldn't be put in the "too hard" basket and left to another generation.
Growth Slows
Australia's economy expanded just 0.2 percent in the second quarter from the first three months, and was saved from a contraction only by an uptick in defense spending. Yet, the government has relied on a record-low benchmark interest rate of 2 percent to support growth.
Hockey has been gaffe prone since assuming his role after the Liberal-National coalition won office in September 2013, defeating the Labor Party of Prime Minister Kevin Rudd.
Following the 2014 budget, Hockey was forced to publicly apologize after he said a proposed increase in fuel tax would hit higher-income earners harder because "the poorest people either don't have cars or actually don't drive very far in many cases."
Turnbull attacked the government's economic mismanagement as he announced his challenge to Abbott last Monday.
"Ultimately the prime minister has not been capable of providing the economic leadership our nation needs," said Turnbull, who prevailed in a ballot of Liberal Party lawmakers to take the leadership. "He has not been capable of providing the economic confidence that business needs."
Hockey countered before last Monday evening's vote, saying Turnbull had never "said to me or to the Cabinet that we are heading in the wrong economic direction."
"We have an economic plan that is being delivered and is working," he said at the time.
Before it's here, it's on the Bloomberg Terminal.
LEARN MORE