Japanese Media Praise 'Historic' Rugby Win Over South Africa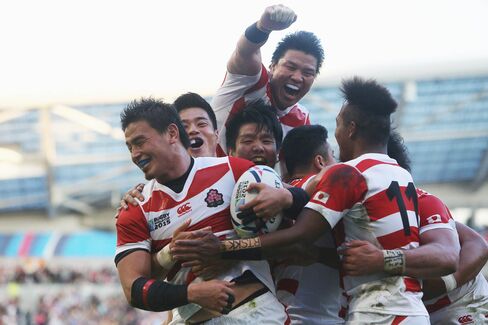 Victory is Japan's first in 24 years at World Cup tournaments

Cherry Blossoms will take on Scotland in their next match
Japan's surprise victory over South Africa, the world's third-ranked rugby team, at the World Cup in Britain continued to reverberate through the Asian country as the local media lavished praise on the team Sunday.
Ranked 13th in the world, Japan beat the two-time World Cup champions 34-32 in the opening Pool B match Saturday, with Karne Hesketh scoring a last-minute try to overtake the Springboks. The Japanese team, known as the Cherry Blossoms, had won only one previous World Cup game, against Zimbabwe in 1991.
Public broadcaster NHK reported Japan's "historic" victory as its top news, saying the team is off to a great start toward its goal of becoming one of the top eight squads in the tournament. The Sports Nippon newspaper called the victory a "miracle."
"I've never worked harder in my 20 years of coaching," coach Eddie Jones was quoted as saying by the Japan Rugby Football Union. "Our targets are to make the quarterfinals and be recognized as one of the best teams of the tournament."
The comments from Jones, who guided Australia to the 2003 final, appeared in Japanese on the group's website.
Japan plays Scotland on Wednesday.
Before it's here, it's on the Bloomberg Terminal.
LEARN MORE