Israeli Officials Weigh Harsher Steps to Curb Jerusalem Unrest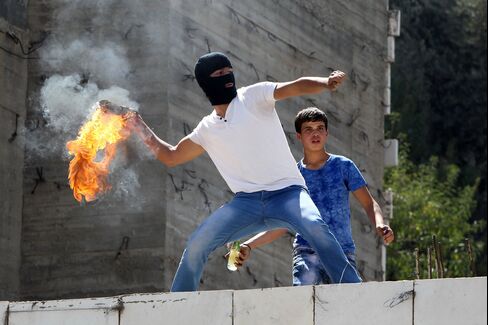 Israeli authorities are debating measures to curb rising unrest in Jerusalem, including a law that mandates "minimum punishments" for the throwing of rocks and firebombs.
Israeli and Palestinian officials have blamed each other for instigating the latest round of violence in Jerusalem, which has centered around the holy site known to Jews as the Temple Mount and Arabs as al-Haram al-Sharif, or the Noble Sanctuary. The site, captured by Israel in the 1967 Middle East war, is a regular flashpoint for unrest.
Prime Minister Benjamin Netanyahu said Israeli police have begun implementing orders giving them wider discretion in using live fire against rioters.
"Stones and firebombs are deadly weapons; they kill and have killed," Netanyahu said on Sunday. "Therefore, in recent days we have changed the open-fire orders for police in Jerusalem. Already over the weekend they used the new measures under the new orders and immediately hit those throwing stones and firebombs."
The cabinet also discussed imposing fines on parents of minors convicted of violence, according to a statement from the prime minister's office.
An Israeli driver was killed last week in Jerusalem after he lost control of his vehicle while it was pelted by Arab stone-throwers, according to police.
Netanyahu defended police actions at the Jerusalem shrine. He said Israel is trying to maintain a status quo in place since 1967, granting Muslim religious authorities control over the site's mosques while allowing for Jewish and Christian visitors to visit the hilltop compound in Jerusalem's historic Old City.
U.S. Secretary of State John Kerry on Saturday said "all parties need to refrain from incitement" over the Jerusalem site. Jordan's King Abdullah accused Netanyahu of inflaming a delicate religious situation, Israel Radio reported.
Before it's here, it's on the Bloomberg Terminal.
LEARN MORE