Iran's Rouhani Doesn't Rule Out Prisoner Swap for U.S. Reporter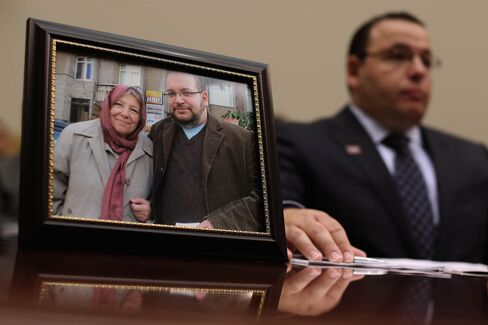 Says Iranian citizens innoncent, wrongly imprisoned in U.S.

Washington Post's Rezaian has been jailed since last year
Iranian President Hassan Rouhani didn't rule out the possibility of releasing a Washington Post reporter who has been held for more than a year if the U.S. frees citizens of his country.
"I don't particularly like the word exchange, but from a humanitarian perspective, if we can take a step, we must do it," Rouhani said when asked about a prisoner exchange during an interview taped for CBS's "60 Minutes."
"The American side must take its own steps," he said.
Iranian-American journalist Jason Rezaian, 39, has been detained in Iran on espionage charges, which the news organization denies. His case is proceeding in a closed trial and a verdict is expected soon.
Some human rights groups and U.S. lawmakers have said Rezaian's release should have been negotiated as part of an agreement to limit Iran's nuclear program. While U.S. President Barack Obama has called for the release of the journalist and two other Americans known to be incarcerated in Iran, the nuclear deal reached with world powers in July wasn't contingent on freeing prisoners.
Wrongly Jailed
Rouhani said the U.S. has wrongly imprisoned Iranian citizens for circumventing sanctions. "We consider all of those prisoners to be innocent, and consider it wrong that they are in prison," he said.
The matter of a prisoner swap hasn't been brought up with the Iranian judiciary, judicial spokesman Gholamhossein Mohseni-Ejei told Tehran reporters on Sunday, according to the state-run Fars news agency. Rezaian remains in custody, Mohseni-Ejei said.

Iran's Foreign Ministry previously denied reports that it might seek to exchange Rezaian for Iranian prisoners held in the U.S.

Nineteen Iranian citizens are detained by the U.S. on sanctions-related charges, Deputy Foreign Minister Hassan Ghashghavi said last month.

"There are no talks of prisoner exchange whatsoever as each of these cases are different," Ghashghavi said on Aug. 25, according to Fars.
Before it's here, it's on the Bloomberg Terminal.
LEARN MORE