Greeks Head to Polls to Decide Who Will Implement Bailout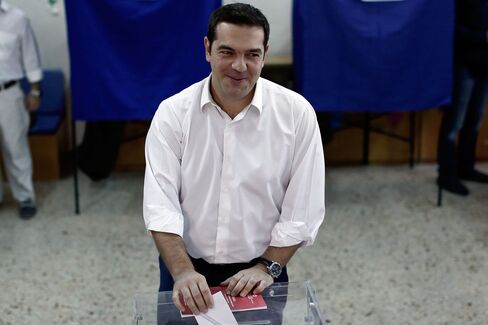 Syriza has narrow lead over New Democracy in latest surveys

Both major parties say they'll abide by terms of agreement
Greeks began voting Sunday in a general election to determine who will lead efforts to implement European bailout agreements and restore economic normalcy to the continent's most indebted country.
Former Prime Minister Alexis Tsipras's Coalition of the Radical Left, or Syriza, has a slight lead over the center-right New Democracy in the latest opinion surveys. Polling stations opened at 7 a.m. and will close 12 hours later. Initial exit poll results are expected immediately, and an early projection of the result within about two hours.
With neither party likely to win an outright majority, the winner will probably have to negotiate a governing coalition with smaller factions in the 300-seat parliament. Greece's new government will then need to turn to the task of reassuring European creditors, led by Germany, that budget cuts, tax increases and economic reforms they demanded in exchange for an 86-billion-euro ($97 billion) bailout deal will continue to be carried out.
Voting in Kipseli, a working-class Athens neighborhood, Tsipras called on Greeks to "seal the transition to a new era" by supporting Syriza. New Democracy leader Evangelos Meimarakis said he expected voters to "drive away the greyness, the falsehood, the misery," as he cast his ballot in the middle-class suburb of Marousi.
Sixth Election
The vote is Greece's sixth national election since 2009, including July's surprise referendum on austerity measures demanded by creditors.
Both Syriza and New Democracy support the bailout agreement and will push to implement its terms, though a number of smaller parties don't share that view. Investors are nonetheless signalling confidence that the worst is over for Greece, with the country's government bonds posting the biggest returns in the euro zone over the past month, and stocks on the Athens Stock Exchange also rallying.
"There are three things to look for over the next week: quick and smooth formation of a coalition, that the new government begins to say the right things, and that the individuals in the economic team and key ministries are seen to be competent and capable," Mujtaba Rahman, the head of the Europe practice at consultancy Eurasia Group, said by phone. Still, he said, "I don't think the election per se is going to bring about a return of economic confidence or economic stability."
Tsipras struck the deal with creditors in July despite Greeks' emphatic decision to vote "no" to further austerity measures in the referendum, which he called when bailout talks broke down. The agreement came amid threats to expel Greece from the euro if it continued to reject creditors' demands, and was a major about-face for Tsipras, 41, who swept to power in January on a promise to do just that.
Party Split
A subsequent split in Syriza led to Tsipras's resignation as prime minister in August, forcing new elections. Syriza lawmakers who revolted against the bailout agreement have formed a new party, Popular Unity, which advocates a return to the drachma to remove Greece from the supervision of the European Central Bank.
Under leader Meimarakis, New Democracy has meanwhile campaigned on a platform of stability that draws on its status as one of Greece's major governing parties since the fall of the military dictatorship in 1974. First elected as a member of parliament in 1989, Meimarakis succeeded former Prime Minister Antonis Samaras as party leader in July, after Samaras failed to convince Greeks to vote "yes" in the austerity plebiscite.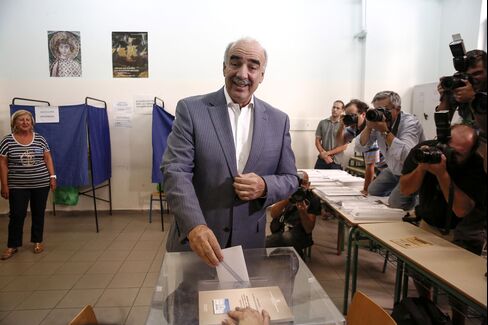 In Halandri, on the outskirts of Athens, pensioner Kostas Dourgos said he'd voted for Syriza in January and has been "regretting it since March." This time he's supporting New Democracy. "No more experiments," Dourgos said.
Whoever becomes prime minister, an early test of the new government's economic performance will come shortly after the election. A creditor review of Greece's reform efforts is due before the end of the year, and a positive verdict will be necessary to unlock further aid. Of particular importance will be the disbursement of funds to recapitalize Greek banks, which have been battered by outflows of deposits that prompted capital controls.
Tight Polls
A survey published late Friday by Kapa Research for To Vima newspaper said Syriza has the support of 31.2 percent of voters, compared with 28.3 percent for New Democracy. The poll, which surveyed 1,201 people and had a margin of error of 2.8 percent, said the nationalist Golden Dawn is running third, with 6.4 percent support.
In his last official event of the campaign, Tsipras addressed thousands of cheering supporters in Athens's central Syntagma Square on Friday night, flanked by politicians from left-wing parties in Spain and Germany. They're lending support to a leader they welcomed as a hero when he was first elected on a platform of standing up to demands for spending cuts.
At a polling station in Saronida, a seaside village south of Athens, 54-year-old Tasos Papailias said he was ready to give Tsipras another shot at power. "I wasn't going to vote as whoever wins the election the result will be the same: more hardship," the former airline employee said. "In the end, I decided to give Tsipras a last chance to show he can make a difference."
Before it's here, it's on the Bloomberg Terminal.
LEARN MORE