Trader Olam Eyes $2 Billion Opportunity After Crisis
Olam planning bigger acquisitions after slump in global prices

CEO says `we are beginning to enter a buyer's market'
Olam International Ltd., a commodity trader controlled by Singapore's state investment company, is ready to deploy almost $2 billion on acquisitions to take advantage of slumping agricultural commodity prices.
"We are beginning to enter a buyer's market," Sunny Verghese, chief executive officer of Olam, held 51 percent by Singapore's Temasek Holdings Pte, said in an interview. "We will do bigger deals that really move the needle for us."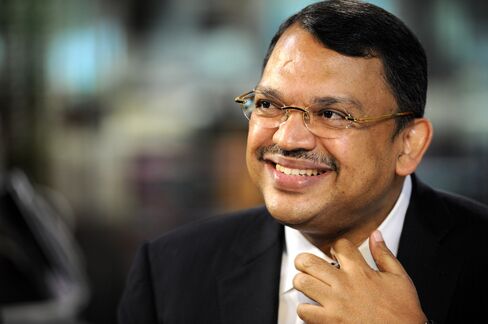 Verghese revealed the acquisition plans less a month after Mitsubishi Corp. bought a 20 percent stake in Olam for about $1 billion in a sign that Asian trading houses are betting growth of populations and wealth in the region will spur demand for higher-quality food. It also signals changing fortunes for Olam, a firm that a few years ago was fending off an attack from U.S.-based short seller Muddy Waters LLC and doubts raised over its finances.
With the Mitsubishi funding helping to ease those concerns, Verghese, who has run Olam since its founding more than a quarter of a century ago, is ready to switch up his acquisition strategy to benefit from a rout in food markets.
Global prices have dropped to their lowest since April 2009, according to the United Nations Food and Agriculture Organization.
Opportunity in Crisis
Weakness in emerging-market currencies and the potential for higher interest rates are also Olam's allies as they depress asset valuations, Verghese said.
"Our biggest chunk of investment was during the last global financial crisis," he said in London last week. "We see these crises as opportunities."
The firm raised S$915 million ($656 million) in August selling a 12 percent stake to Mitsubishi, which bought 8 percent more from existing shareholders. The cash from the transaction, leveraged with about S$1.8 billion of debt, would bring Olam's firepower to about S$2.72 billion, Verghese said.
That feeds into a plan to shift away from the company's smaller transactions of the past, some barely above the $10 million mark.
"The $100-$200 million range will be our sweet spot," Verghese said. "But we will do fewer of them. We will be very disciplined and selective."
The company's latest deal is even bigger than that. Its purchase of Archer-Daniels-Midland Co.'s cocoa business for about $1.3 billion is due to close next month.
African Pipeline
Olam has a pipeline of potential deals in Africa, said Verghese, declining to elaborate. Mitsubishi said when it bought its stake that it expected expansion in the continent.
While Olam isn't a household name, it ranks among the top food-commodity traders, particularly in cocoa, nuts, wheat and rice, supplying companies such as PepsiCo Inc. The trader says that one in eight of all chocolate bars eaten around the world is made from beans that it handles.
Temasek took a controlling stake in March 2014 to fend off Muddy Waters. The short-seller led by Carson Block in 2012 queried Olam's ability to generate cash and the quality of African operations, causing its stock to plummet.
The acquisition by the Singapore state investor also shows Asian companies' efforts to muscle in on an agricultural trading industry dominated by U.S. and European houses, in particular a group known as "ABCD" for the initials of ADM, Bunge Ltd., and Cargill Inc. and Louis Dreyfus Commodities.
Asian deals include Marubeni Corp., one of Japan's top-five trading houses, buying U.S. grain merchant Gavilon Holdings LLC in 2013 for $2.7 billion plus debt to expand in North America. Cofco Corp., China's largest food company, also spent $3.5 billion last year to build a global grain trader, acquiring controlling stakes in Noble Group Ltd.'s grains arm and Nidera BV.
Olam's shares fell 1 percent at 1:54 p.m. in Singapore to S$2.02, erasing this year's advance.
(Corrects to change begging to beginning in deck headline.)
Before it's here, it's on the Bloomberg Terminal.
LEARN MORE