Deutsche Wohnen Said to Seek Takeover of German Landlord LEG
LEG supervisory board and management are discussing proposal

Deutsche Wohnen is twice the size of $4.65 billion LEG
Deutsche Wohnen AG, Germany's second-largest residential landlord by market value, made a takeover approach for smaller rival LEG Immobilien AG, according to people familiar with the matter.
The proposal from Deutsche Wohnen was made in the last few days and is being led by Chief Executive Officer Michael Zahn, said the people, who asked not to be identified because details of the proposal are private. LEG's supervisory board and management are likely to accept the offer, though no final decision has been made, they said. A deal could be announced as early as today or tomorrow, the people said.
Deutsche Wohnen is twice the size of LEG, which is valued at about 4.09 billion euros ($4.65 billion). The premium could be around the industry average of about 15 percent, though the final number is still be negotiated and depends on which LEG share price is being used as a comparison, two of the people said. The offer will likely be mostly shares, one of them said. CEO Zahn will likely lead the combined company, the person said.
Representatives for Deutsche Wohnen couldn't be immediately reached for comment outside of regular business hours. A representative for LEG couldn't immediately comment.
The publicly held German residential sector, now dominated by Deutsche Wohnen and larger competitor Vonovia SE, has grown about tenfold since 2012 as new companies raised money in stock offerings, bought rivals and accumulated apartments. Deals have been financed with record levels of debt and share sales as companies take advantage of low interest rates and strong demand for real estate from international fund managers.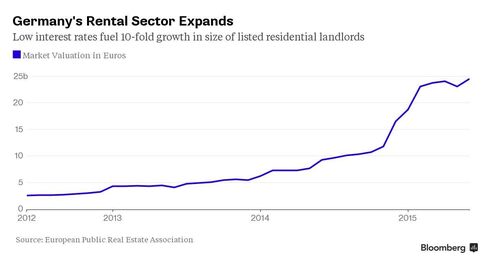 Deutsche Wohnen is pursuing LEG after Vonovia, which was formerly known as Deutsche Annington Immobilien SE, agreed to acquire competitor Gagfah SA in 2014 for 3.9 billion euros, Germany's biggest-ever real-estate acquisition at the time.
Deutsche Wohnen said in April that it failed to gain control of Conwert Immobilien Invest SE after a majority of the Austrian company's shareholders rejected a 980 million-euro takeover bid. The company had offered to buy Conwert shares for 11.50 euros each. Deutsche Wohnen had to secure at least 50 percent and one share for the bid to succeed.
Vonovia will this month become the first residential landlord to enter a benchmark European stock index, the DAX, after a two-year acquisition spree that more than tripled its market value to almost 14 billion euros.
Deutsche Wohnen agreed to buy GSW Immobilien AG in 2013 in a deal that valued GSW's equity at 1.7 billion euros.
Before it's here, it's on the Bloomberg Terminal.
LEARN MORE