Clegg Warns of U.K. Break-Up If Britain Votes to Exit EU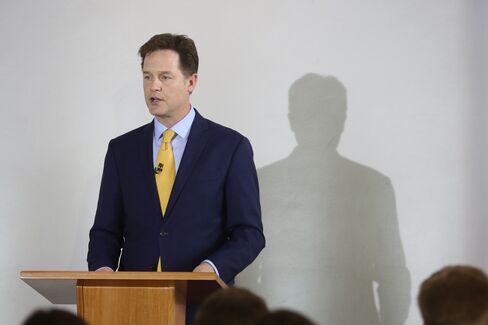 Nick Clegg, the former deputy prime minister, will warn on Monday that the U.K. risks being broken up if Britons vote to leave the European Union in a referendum due before the end of 2017.
The Scottish National Party would use an exit from the bloc as a springboard to push for an independent Scotland, Clegg will say, according to extracts of a speech released by his office.
"Not just one, but two unions now hang in the balance," Clegg will tell delegates at the Liberal Democrat Party's conference in Bournemouth, southern England. "If we vote to leave the EU, I have no doubt that the SNP will gleefully grab the opportunity to persuade the people of Scotland to leave the U.K. as well."
Clegg, who quit as leader after his party lost 49 of the 57 House of Commons lawmakers it had before the May general election, will also say that the U.S. would cut Britain adrift if it leaves the EU.
"Is America, Uncle Sam, going to help us out when we've cut ourselves off from our own European backyard?" Clegg will ask. "Of course not –- we may share history and language, but the Americans have been unsentimentally clear that we are of less relevance to them if we are less important in Brussels, Berlin or Paris."
Clegg will also criticize new Labour Party leader Jeremy Corbyn for not being clear about his position on the EU referendum, which Prime Minister David Cameron pledged to hold before the end of 2017 to damp down internal conflict in his Conservative Party over Europe.
"The Chinese and Indians simply can't understand why we're even contemplating relinquishing our leadership role in Europe in the first place," Clegg will say. "I say to Jeremy Corbyn the EU referendum is simply too important for ambivalence."
After confusion over the issue in the first days after Corbyn was elected leader on Sept. 12, the party issued a statement from Corbyn and Foreign Affairs spokesman Hilary Benn on Sept. 17 that said "Labour will be campaigning in the referendum for the U.K. to stay in the European Union."
Before it's here, it's on the Bloomberg Terminal.
LEARN MORE