Citic Securities Slump Seen Deepening as Bulls Lose Faith
Analysts seen lowering buy recommendations as shares slump

Trading curbs, regulatory probe seen weighing on share price
Analysts are too optimistic on Citic Securities Co.
That's the view of Hong Kong traders at Changjiang Securities Holdings (HK) Ltd. and Geo Securities Ltd., who predict analysts will cut their recommendations as a government campaign to stop the equity rout-- from a crackdown on speculative trading to suspending initial public offerings -- reduces profits and share prices across the industry. Brokerages are also being compelled to foot a 220 billion yuan ($35 billion) rescue bill for the stock market, while an investigation into the turmoil has ensnared Citic Securities' president.
So far, ratings on Citic Securities have been resistant to bad news. As shares at China's largest brokerage tumbled 56 percent in Hong Kong in the past five months, analysts increased their bullish recommendations, with the consensus call rising to 4.2 from 3.9 on a scale where five equates to a unanimous buy ranking. And it's not just Citic that's favored. The average rating of the next four largest Chinese securities firms listed in Hong Kong is 4.6, higher than the 3.8 for the five biggest in the U.S.
"Many of the target prices are too high because they are based on first-half numbers with little foresight," said Nelson Yan, the Hong Kong-based chief investment officer of Changjiang Securities. "The brokerage sector is facing problems such as smaller stock turnover, lower trading profit and curbs on margin financing and futures trading. The government's probe is causing concerns in addition to all these problems."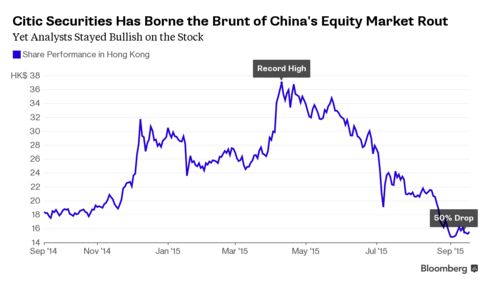 Citic Securities' net income tripled in the first six months of the year after turnover in Shanghai reached the highest ever and fees from margin lending surged. That's a feat it's unlikely to repeat: the value of shares traded on the Shanghai Composite Index has tumbled more than 80 percent from its peak, the futures market's on life support and margin loans tracked by Chinese exchanges have declined by more than half.
A regulatory probe of activities by the firm's president, Cheng Boming, and two other senior executives comes after police questioning of Citic Securities' executives in recent weeks. The official Xinhua News Agency reported last month that eight people at the company were suspected of illegal securities trading.
Citic Securities dropped 2.2 percent to $15.32 at the close in Hong Kong, while the Shanghai-listed shares gained 1.2 percent.
All the "negative news" is "affecting investor sentiment on the shares," said Ben Kwong, a director at brokerage KGI Asia Ltd. in Hong Kong. "It seems all the effort in past years has evaporated."
Just eight months ago, booming trading revenue pushed the market value of Citic Securities to levels almost on par with UBS Group AG, the Swiss investment bank. The firm is part of Citic Group, the nation's first state-owned investment corporation, which was set up in 1979 as part of leader Deng Xiaoping's push to modernize the country.
Cheap Valuations
Citic Securities has 18 buy ratings, six holds and two sell recommendations by analysts tracked by Bloomberg, even after the stock's tumble from its April record wiped out $40 billion of value, equivalent to the total market capitalization of U.S. investment firm Charles Schwab Corp.
Declines in Citic Securities' shares have made valuations the cheapest on record, while brokerages can still deliver a 10 percent return on equity, Jefferies Group LLC said in a note last week, reiterating its buy recommendation on the stock.
The stock was valued at 7.3 times reported profit on Sept. 18, down from a high of 44 times in 2013. The valuation multiple fell to the lowest this month since the shares first traded in 2011. Haitong Securities Co. and China Galaxy Securities Co. trade at less than 7 times earnings after falling more than 50 percent over the past five months.
National Service
There are signs analysts' conviction in Citic Securities' prospects is wavering. HSBC Holdings Plc cut its buy rating on the stock to hold on Sept. 16 and reduced its target price by almost half to $18. Bank of America Corp. lowered its recommendation to underperform from buy earlier this month, saying the size of the "national service" contributions to support the stock market was bigger than expected.
Brokerages were asked by the securities regulator to contribute 100 billion yuan to the nation's market rescue fund, people familiar with the matter said last month, adding to the 120 billion yuan pledged by a group of 21 securities firms in July.
Still, analysts see Citic Securities' shares rallying to HK$26.30 in the next 12 months, 68 percent higher than the last close. For Francis Lun, chief executive officer at Geo Securities in Hong Kong, HK$11 is closer to the mark, or 30 percent below Friday's close, as uncertainty over what the government does next deters investors.
Analysts "need to do their homework again," said Lun. "Who will want to play the China market now? Nobody. I wouldn't want to invest there."
Before it's here, it's on the Bloomberg Terminal.
LEARN MORE