Carbon Pricing Triples as Companies Prepare for Climate Limits
GE, Colgate, Nissan among 437 businesses using carbon prices

U.S. power-plant rules, China emissions trading among drivers
The number of companies that put a price on their greenhouse-gas emissions for internal planning almost tripled this year, a sign that businesses increasingly expect to face restrictions on carbon pollution.
Worldwide, 437 companies said they're using internal carbon prices, up from 150 in 2014, according to a report released Sunday by the Carbon Disclosure Project, a non-profit that gathers environmental data for investors. The number more than doubled in the U.S. and Canada and swelled more than 10-fold in Asia, amid moves by the U.S., China and other countries to add new regulations.
"Corporations clearly are placing their bets about what the future of the policy landscape looks like," Lance Pierce, the group's North American president, said in a telephone interview. "They are planning for a future where carbon has a price."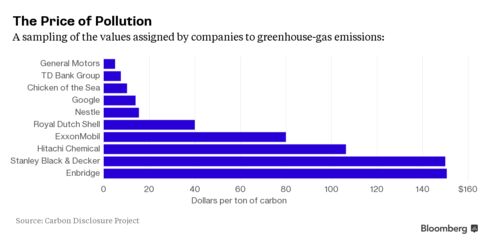 Businesses joining the list this year included General Electric Co., Colgate-Palmolive Co. and Nissan Motor Co. Another 583 companies expect to start using a carbon price in the next two years, including Yahoo! Inc. and the Chinese electric utility CLP Holdings Ltd., according to the Carbon Disclosure Project's third annual report.
China is pilot testing emissions-trading markets and expects to expand the program next year. In the U.S., President Barack Obama introduced regulations on greenhouse pollution from power plants this year, although Republicans seeking to succeed him as president have vowed to undo the plan if elected.
UN Climate Talks
The United Nations, meanwhile, is brokering talks this year aimed at an international pact that would commit more than 190 nations to limits on heat-trapping pollution.
Companies said carbon prices help create incentives for energy efficiency projects or to switch to less-polluting fuels. In the U.S., utilities including Duke Energy Corp. and American Electric Power Co. cited the expected cost of emissions in choosing to invest in low- or no-carbon generation, according to the report.
The total list represents "more than $8 trillion worth of market value that has decided that this is an important issue to begin building a management strategy around," Pierce said.
Carbon prices ranged from the $357.37 used by NGK Spark Plug Co. of Japan to the 95 cents cited by Brazilian utility Cia. Energetica de Minas Gerais for emitting a metric ton of carbon dioxide or its equivalent.
Before it's here, it's on the Bloomberg Terminal.
LEARN MORE