Hungary Calls Military Reserves as Germany Urges Refugee Cap
Migrants go via Croatia after Hungary seals off Serb frontier

Slovenian police use pepper spray to repel migrants at border
Hungary called on its military reserves to help defend its borders while Germany proposed capping the number of people eligible for asylum in the European Union, as a divided bloc sought to contain an overwhelming number of refugees.
Hungary's reserves will mostly take on duties inside military barracks, the Defense Ministry said in a statement on Saturday, after thousands of police and soldiers were sent to the southern border with Serbia to repel migrants. That sent refugees on an alternate route to Croatia, where authorities transported them back to Hungary, setting off a diplomatic firestorm with Hungarian and Croatian officials blaming each other for mishandling the crisis. Hungary took the migrants straight to the Austrian border.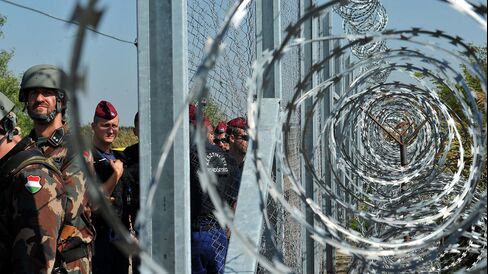 The EU is divided and exhausted by hundreds of thousands of migrants arriving into the bloc so far this year. Germany, until now one of the most outspoken proponents of taking in refugees, said it wanted the bloc to cap asylum places. Refugees would be sent back to their home regions once quotas are exhausted, German Interior Minister Thomas de Maiziere said, according to an interview published in Spiegel magazine on Saturday.
"We can't host all the people from conflict areas and all poverty refugees who want to come to Europe and to Germany," de Maiziere said, according to Spiegel. "The right way would be that we in the EU commit ourselves to fixed, generous quotas for the admission of refugees."
Fortified Borders
That may lay the groundwork for a potential consensus after European leaders have been at odds for weeks over how to deal with the refugee crisis.
The EU, as well as the U.S. and Gulf need to come up with at least 5 billion euros ($5.7 billion) in the next few months to support the countries around Syria providing a minimum of food, shelter and medical supplies, German Vice Chancellor Sigmar Gabriel said in Vienna.
U.S. Secretary of State John Kerry, during a visit to London, said the Syrian war has gone on "much too long" and the refugee crisis had to be addressed at source. That can't be done without getting Russia on board to help end the civil war in Syria, Gabriel said.
Hungarian Prime Minister Viktor Orban has fortified his country's borders to deter refugees and urged the EU to defend the outer frontier of the passport-free Schengen area. German Chancellor Angela Merkel has emphasized Europe's moral responsibility to let them in. EU President Donald Tusk has called an emergency summit on the crisis next Wednesday.
Chaotic Scenes
As leaders prepared their positions on a proposal to relocate 120,000 refugees currently in Greece, Hungary and Italy according to binding quotas --- a measure until now opposed by several eastern European countries -- chaos continued to rein on the ground.
More than 20,000 migrants entered Croatia in the past three days, prompting authorities there to transport migrants mostly to Hungary. Hungary, which had built a fence along its border with Serbia to repel migrants after finding itself the main entrance route for entering the EU, responded by taking the migrants to its border with Austria.
Hungary's response created a muddled legal quandry.
Just a few kilometers to the east, on Hungary's border with Serbia, authorities used tear gas and water cannons to repel migrants on Wednesday. Most migrants who tried to register there were summarily deported this week according to new laws that allow authorities to imprison those who try to cross the border illegally and reject everyone who comes via a safe country, including Serbia.
Hungary decided to take migrants from the Croatian border to Austria instead of returning them to Croatia because a razor-wire fence has yet to be installed on the border, Index news website reported, citing Foreign Minister Peter Szijjarto. He said authorities were in the process of erecting such a fence on the Croatian frontier as well.
New Arrivals
About 6,700 refugees arrived in the eastern Austrian province of Burgenland from Hungary on late Friday, police spokesman Helmut Marban said by e-mail. Another 500 to 1,000 are expected by mid-day Saturday. Croatia will continue to send refugees to Hungary, Prime Minister Zoran Milanovic said Saturday on Twitter.
In Slovenia, authorities used pepper spray against migrants trying to cross the border with Croatia, Dnevnik newspaper said, citing reports from the scene. Just above 1,000 migrants have illegally crossed from Croatia to Slovenia Saturday, STA newswire said, citing Slovenian police.
No corner of Europe has been untouched by the migrant crisis. In Finland, about 100 people gathered in the border town of Tornio on Saturday to demonstrate against the arrival of asylum seekers from countries such as Iraq, who had crossed the frontier from Sweden, YLE broadcaster reported.
Before it's here, it's on the Bloomberg Terminal.
LEARN MORE