Economic Challenges Make Canadians Feel Vulnerable, Harper Says
Says Conservative Party has best long-term plan for economy

Canadian parties in a tight three-way race ahead of Oct. 19
Although Canadians "feel vulnerable" about the economy, staying the course with the Conservative Party's current policies is the best choice for the country, which holds a federal election next month, Canadian Prime Minister Stephen Harper said.
"Do Canadians feel vulnerable? Of course they feel vulnerable," Harper said in an interview airing Saturday on CBC Radio's "The House."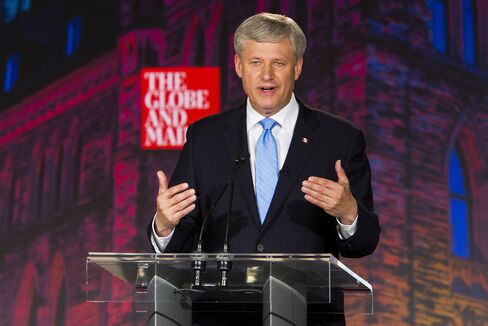 "How do we deal with that vulnerability? We deal with that vulnerability by establishing a long-term plan with strong fundamentals," Harper said, reiterating a commitment to his party's low-tax, balanced-budget plan.
The Conservative party is locked in a tight, three-way race ahead of the Oct. 19 election, vying with the center-left Liberal Party and the labor-friendly New Democratic Party, which has been shifting toward the center.
Before it's here, it's on the Bloomberg Terminal.
LEARN MORE