Tight Canada Vote Has Oliver Fighting in Provincial Trenches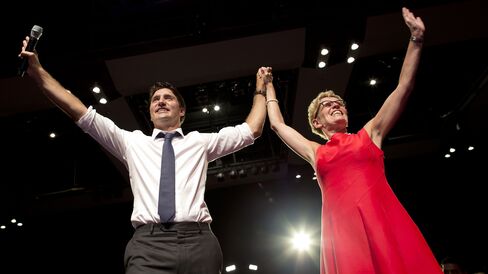 Finance minister uses one of few interviews to attack Wynne

Provincial Liberal has campaigned with Trudeau against Harper
Finance Minister Joe Oliver, in a rare campaign interview, came out swinging against Kathleen Wynne, as the war of words with the Liberal premier of Ontario escalates ahead of the Canada's federal election.
Wynne's new provincial pension plan and Ontario's deteriorating credit rating should make the province's voters wary of Justin Trudeau's federal Liberals, who according to Oliver are keen to promote and replicate her agenda.
Trudeau is "joined at the hip with the premier of the province and she's got a job-killing pension plan," Oliver said in a Sept. 17 interview at his Toronto campaign office. "Trudeau has made very clear his approval for what the Liberal government of Ontario is doing."
The comments from Oliver, who's in a tough fight to hold his own district, echo recent efforts by Prime Minister Stephen Harper to draw the premier into the campaign, hoping the move will help rally the province's core Conservative supporters against Wynne's economic policy. The attack prompted an immediate response.
Returning Fire
"Ontario needs a new federal government to work with," Wynne said in an e-mailed statement Friday. "Stephen Harper and his minsters preferred to play political games rather than work with provinces in the best interest of the people of this country."
The Trudeau camp also hit back at the Conservatives. "If Stephen Harper had been doing his job over the past ten years to secure Canadians' retirement and work with the provinces, then Kathleen Wynne wouldn't have to do his job on top of hers," Marco Mendicino, the Liberal candidate in Oliver's district, said in an e-mailed statement.
The premier's plan to raise mandatory pension contributions is a prime target, with Harper's team calling it a payroll tax. The Conservative government has said it won't help facilitate the administration of the provincial pension proposal, which Wynne's government says is needed to bolster retirement savings.
Domestic Threats
"Kathleen Wynne and Justin are ideological soulmates," Stephen Lecce, a spokesman for the Conservative campaign, said in an e-mail. "In addition to Justin's endorsement of Wynne's huge job-killing payroll tax hike, they both favor massive, permanent multi-billion-dollar deficit spending."
After beginning their campaign focusing on global economic risks, the Conservatives' efforts to draw attention to Wynne's policies also dovetail with a growing emphasis on what party officials are calling domestic threats to the Canadian economy, such as proposals for higher taxes and deficits. In recent days, the Harper's campaign slogan has moved from "Proven Leadership" to "Protect Our Economy."
"We need to protect our economy, we need to protect our credit standing, we need to be there with the strength to withstand international shocks," Oliver said. "We need to have money available for investments and the opportunity to reduce taxes, we need to avoid saddling our children with further debt."
Provincial Popularity
Not that Wynne and the Liberals are shying away from the attention.
On Wednesday, with cameras in tow, Wynne went for a jog in Toronto with candidate Bill Morneau and answered questions on the pension plan. She's been canvassing for other federal Liberals as well and been openly critical of Harper and New Democratic Party Leader Thomas Mulcair -- Trudeau's main challengers.
"It is an affront to the people of Ontario and their futures when he actively obstructs what everyone knows is needed," Wynne said Friday, referring to Harper's decision to not cooperate with the Ontario pension plan. "What we need now is a real partner in Ottawa."
All evidence points to the premier helping Trudeau in key areas of Ontario where she remains popular, largely urban centers such as Toronto, according to John Wright of polling firm Ipsos Reid.
"I haven't seen any evidence to suggest she is being a complete anvil around his neck," Wright said in a telephone interview. "In fact they've actually picked up support especially where they need."
Neophyte Narrative
An Ipsos poll published Sept. 15 showed the Liberals leading in Ontario with 37 percent support, compared with 31 percent for the Conservatives and the NDP's 27 percent. Liberal support is up from 33 percent at the end of August.
So why are the Conservatives drawing attention to Wynne? It might be part of an effort to feed into a broader narrative that Trudeau -- who has brought former prime ministers Jean Chretien and Paul Martin on stage with him in the campaign -- is a political neophyte who requires the help of others, Wright said.
"It's all about Justin, it's not about her," he said. "A lot of it is just trying to make the reflection he's owned by and owes other people."
Before it's here, it's on the Bloomberg Terminal.
LEARN MORE