RWE Holder Says Worst Slump on DAX Due to Bad Communication
RWE's supervisory board is scheduled to meet on Friday

Shares have slumped 58 percent this year as DAX Index gained
Unless RWE AG's top executives change the way they communicate with investors, the utility is unlikely to shake its image as one of Germany's most unloved stocks.
That's the opinion of Guntram Pehlke, chief executive officer of local utility DSW21, which holds a 3.6 percent stake in RWE as part of a group of municipal shareholders. In addition to power prices at the lowest level in more than a decade and uncertainty over nuclear provisions, he says RWE's managers have themselves to blame for the slide in shares.
As the supervisory board held a regular meeting on Friday, RWE fell to the lowest level since at least 1992 this week and is the biggest loser on Germany's benchmark DAX Index this year. For the first time in 17 years, RWE won't from Monday be a member of the Euro Stoxx 50 Index after a decision to exclude the Essen-based utility was taken in August.
"The negative portrayal of RWE is clearly reflected in the share price," Pehlke said Monday in an interview at DSW21's headquarters in Dortmund. The company's executives must shoulder part of the blame because they've failed to properly communicate the aspects of the business that are doing well and don't have a strong enough network in political circles, he said.
Sabine Jeschke, an RWE spokeswoman, declined to comment on Pehlke's criticism.
RWE fell 8.1 percent to close at 10.89 euros in Frankfurt, where more than eight times the daily three-month average was traded. It was the biggest loser of both Germany's benchmark DAX index and the Stoxx 600 Utilities Index.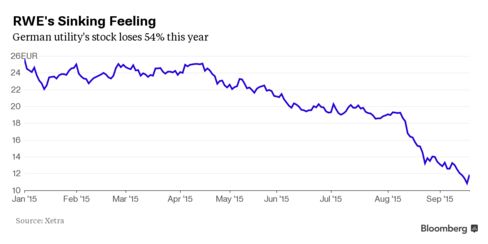 Pehlke would like more emphasis on optimistic messages by executives as sales, retail business and renewables are doing well. He singled out Arndt Neuhaus, who runs the company's German business that contributes about 50 percent to the company's profit. He "knows where it's going to. He does a really good job," Pehlke said.
Neuhaus heads the development of a new management model for the grid unit that will be implemented in 2017, according to an internal RWE statement dated Sept. 9 and obtained by Bloomberg.
With wholesale electricity at the lowest in more than a decade and concerns that provisions set aside by nuclear power plant operators to decommission reactors may be insufficient, the country's largest power producer is under pressure to reduce its reliance on fossil fuels.
Operating profit from conventional power generation at the company, which operates three nuclear power plants, fell by more than half in the first six months of the year. German Chancellor Angela Merkel has ordered atomic power to be phased out by 2022 in a shift to renewable energy.
While Pehlke still expects the dividend for 2015 to remain roughly stable compared with the 1 euro a share paid in 2014, more pain lies ahead for the company as it's struggling to bring new power plants online, he said.
Offline Plants
"I don't believe that the Westfalen D power plant will ever feed into the grid" and there's been no decision to date on the newly built 764-megawatt hard coal-fired facility located in Hamm, he said.
RWE and its municipal shareholders have poured more than 2 billion euros ($2.26 billion) in the Westfalen plant's bloc D and E, of which the latter is online. Pehlke said his company isn't willing to pay any more than the 65 million euros he has provisioned for.
Municipalities hold a stake of about 23 percent in RWE, which usually gives them a blocking minority at annual general meetings. The DSW21 CEO wants an external candidate to replace Supervisory Board Chairman Manfred Schneider, who plans to step down after the annual general meeting in April. The topic may be discussed at a meeting of the supervisory board, which oversees the management board.
Municipal shareholders back Werner Mueller, the German economy minister from 1998 to 2002, Frankfurter Allgemeine Zeitung reported earlier this month. Supervisory board member Werner Brandt, the former finance chief at software developer SAP SE and a board member at Deutsche Lufthansa AG, is Schneider's top choice to replace him, Handelsblatt reported last month.
"I don't see anybody on RWE's supervisory board who's suitable for the chairmanship," Pehlke said. "There's nothing wrong with taking an outsider."
Brandt is a "very suitable candidate" to succeed Schneider, RWE's supervisory board said Friday in an e-mailed statement. The nominating committee is to present supervisory board candidates in December, according to the statement.
Before it's here, it's on the Bloomberg Terminal.
LEARN MORE