Plane or Copter? Tilt-Rotor May Mix Both in Civil Use
Bell Helicopter revives long-ago dream of a commercial model

New design may flow from contest to supply U.S. military
Bell Helicopter is reviving its vision of finding a civilian market for an aircraft that takes off like a helicopter and cruises like a plane.
That dream first took shape almost two decades ago in a partnership with Boeing Co. for a commercial aircraft based on the pioneering tilt-rotor technology behind the V-22 Osprey. Boeing bowed out early and Bell handed off its work in 2011 to AgustaWestland, which is still developing the aircraft.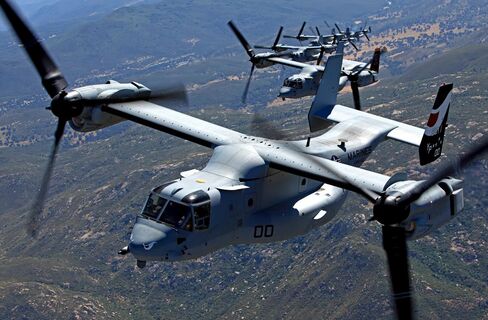 Now, Bell is working on a new tilt-rotor aircraft to be demonstrated to the U.S. military as a possible replacement for the UH-60 Black Hawk helicopter. The V-280 could be cheap enough to appeal to civilian customers as well, Chief Executive Officer John Garrison said.
"You're getting into a quantity level where the cost per unit is going to get to a point where it could be very competitive in a commercial space," Garrison said in an interview at Bell's headquarters in Fort Worth, Texas.
Customer Discussions
Bell, a unit of Textron Inc., has spoken with customers about the possibility of a civilian tilt-rotor aircraft as part of its normal conversations about market demand, Garrison said, without providing details. Bell will receive the first fuselage next week for the V-280, which it's building with supplier partners including Lockheed Martin Corp.
A tilt-rotor's blades spin horizontally to lift off like a helicopter. Then they gradually rotate forward like over-sized propellers, providing the speed and range of an airplane. The U.S. Marines craved those capabilities to reach combat zones. When Bell talked up its civilian 609 offering in the 1990s, it envisioned executives making fast trips from helipads or oil workers zipping to distant offshore platforms.
AgustaWestland, a unit of Italy's Finmeccanica SpA, is doing test flights of its Bell-derived tilt-rotor, now known as the AW609, and expects to obtain flight certification by 2017. Bell has engineering and manufacturing service contracts with AgustaWestland for the project, Garrison said.
"We're following their certification efforts on the 609 very closely," he said. "We want them to be successful."
Sikorsky Competition
Bell's V-280 is part of a competition with Black Hawk maker Sikorsky and Boeing for a new high-speed military rotorcraft. The Sikorsky-Boeing team is building the SB>1 Defiant, which uses two rotors that spin counter to each other and looks more like a traditional helicopter. Garrison said Bell's agreements on the V-280 remain in place even with Lockheed's $9 billion deal to buy Sikorsky from United Technologies Corp.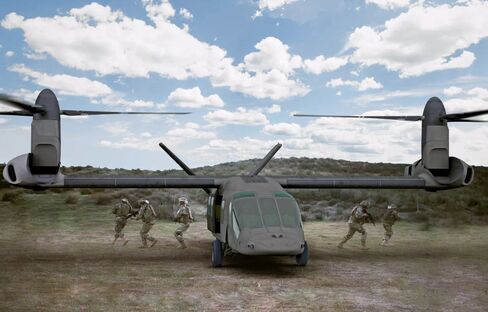 Military needs drove the Osprey, which is big -- it can carry 24 seated troops -- and not cheap. Each one cost $89 million in 2005 dollars, according to a U.S. Air Force fact sheet. With the Pentagon's focus on paring expenses for the V-280, private users are more likely to be attracted to a civilian version, Garrison said.
"When you hit that value proposition with the volumes that we're talking about, there may be an opportunity for a commercial tilt-rotor of that size," he said. "We'd like to believe there's an opportunity."
(Corrects name of Sikorsky-Boeing built helicopter in ninth paragraph of story published on Sept. 18.)
Before it's here, it's on the Bloomberg Terminal.
LEARN MORE