Petrobras Now Has Rio Retirees, Pension Fund Bondholders on Edge
Rioprevidencia's bonds tumble 24 percent in past three months

Pension fund depends on oil royalties for third of its revenue
Marilda Torres Miranda, a 58-year-old high school biology teacher in the city of Rio de Janeiro, is concerned the pension benefits she's counting on when she retires may be cut dramatically.
That's because the Rioprevidencia pension fund that she's banking on gets a third of its revenue from oil royalties paid mostly by state oil company Petroleo Brasileiro SA. That income stream already plunged 54 percent in the second quarter alone. And with Petrobras, as the crude producer is known, saying in June that it's slashing output in the wake of a bribery investigation and plunging oil prices, the fund is facing an ever-ballooning deficit.
"The whole situation is critical and very worrying," Miranda said. "Imagine that, an old person needing the money and not getting it. How is that going to turn out?"
Rioprevidencia's deepening woes are also a growing concern for investors who bought the fund's $2 billion of notes due in 2024, the proceeds of which were earmarked to finance shortfalls. The securities, which are backed by the royalties derived mostly from Petrobras production, have tumbled 24 percent in the past three months, versus an average 2.6 percent loss in emerging markets. The slide has put Rioprevidencia's notes on the cusp of distressed levels.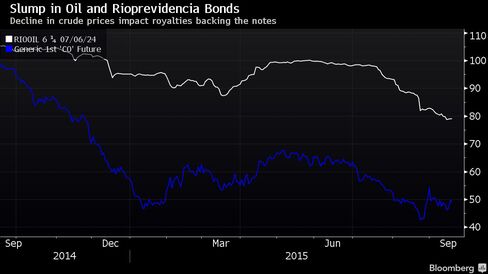 Rioprevidencia's press office declined to comment on the bond's performance, drop of oil prices or on the decline of royalties collection.
When Rioprevidencia sold the bonds in June 2014, Brent crude went for $109 a barrel. The price has since plummeted to $49 a barrel.
In a June 29 statement, Rio de Janeiro-based Petrobras said its output will now average 2.8 million barrels a day by 2020, down from a previous target of 4.2 million.
"This is a very tenuous situation, where you have all of this debt that was
issued against the royalties and then oil prices sold off dramatically," said Casey Shanley, senior analyst at Panning Capital Management LP in New York. "On top of that you have the situation with Petrobras."
Rioprevidencia releases quarterly numbers and debt clauses calculations next week, and investors will be paying close attention to them, Shanley said.
Rioprevidencia's 6.25 percent notes due 2024 have dropped 0.59 cents to 77.89 cents on the dollar as of 12:43 p.m. in New York, pushing yields up to 10.07 percent. They yield 9.95 percentage points more than U.S. Treasuries, inching closer to the 10 percentage-point threshold for debt considered distressed.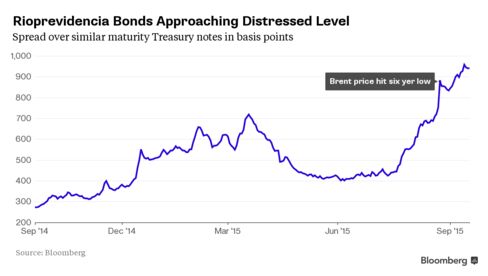 To Patrik Kauffmann, a money manager at Solitaire Aquila Ltd., Rioprevidencia's bonds are among securities that have been oversold as Petrobras's problems worsen and Brazil's economy heads for its longest recession since the Great Depression.
"Petrobras has certainly scared investors," he said from Zurich. "On the creditor side, they have honored all their coupon payments and principal and will do so in the future. The same is valid for Rioprevidencia."
Bank of America Corp., which has an "underweight" recommendation on the bonds, estimates Rioprevidencia will post a deficit of 500 million reais this year, which would be the biggest since 2012.
And if oil production in the state of Rio de Janeiro grows at an annual average of 5 percent and crude prices average $45 per barrel, debt-service coverage ratios could fall enough to violate bond agreements and allow bondholders to demand immediate repayment, Bank of America analysts Anne Milne and Juan Andres Duzevic said in a Sept. 14 report.
The finances of Rio de Janeiro are also a source of worry for investors in the wake of Rio Grande do Sul's default on payments to federal workers in August. Rio de Janeiro is Brazil's most-indebted state after Rio Grande and Minas Gerais.
In March, Rio de Janeiro's house of representatives already approved an extraordinary request to transfer 6 billion reais from a state fund to Rioprevidencia to help plug the budget gap the fund faces this year.
"Investors are concerned about the financial situation of Rioprevidencia and Rio de Janeiro state due to the pressures from lower royalties and weaker economic activity," Milne and Duzevic wrote. "The recent default of Rio Grande do Sul increases concerns."
For Miranda, the high school teacher in the city of Rio de Janeiro, Rioprevidencia's problems may pose a more immediate threat to her 86-year-old father, she said. He's a retired school inspector currently receiving a 1,200-real per month pension from Rioprevidencia.
"This is quite a concerning situation," Miranda said.
Before it's here, it's on the Bloomberg Terminal.
LEARN MORE