Jefferies Sexual Discrimination Suit Dropped Mid-Trial
Ex-employee withdraws after week of harrasment allegations

Dalal Alaoui Belghiti was seeking $5.4 million in lawsuit
A former Jefferies Group saleswoman has dropped her sexual discrimination suit against the investment bank halfway through a trial that included allegations of a male-dominated work culture that drove her to quit.
Dalal Alaoui Belghiti's lawyers asked a London judge to dismiss the suit at an employment tribunal Friday just before Jefferies was scheduled to begin its defense. The New York-based investment bank had endured a week of salacious allegations accusing it of fostering a "culture of discrimination."
Richard Handler, chief executive officer of Jefferies and its parent company Leucadia National Corp., said that the "meritless" lawsuit was an affront to everyone who works at the investment bank.
"We could have quietly settled this case and avoided the bad publicity caused by salacious but baseless allegations," Handler said in a statement. "We decided that an extortionate settlement would have insulted our people and our culture. The truth will not garner the same publicity, but it has prevailed."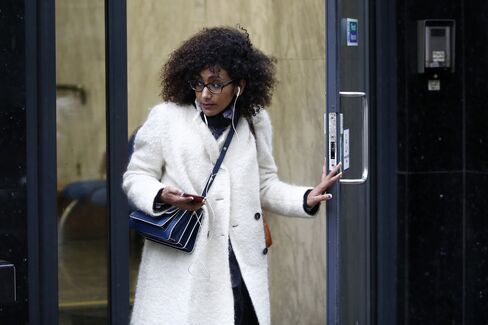 Alaoui Belghiti and her lawyers declined to comment outside the court.
Alaoui Belghiti, who worked on the company's European credit sales team until March 2014, told a London court that her mental health suffered as she became "isolated and excluded" by male staff. She was seeking 3.5 million pounds ($5.4 million) at the trial.
The rare withdrawal of a suit in the tribunal is a bright spot for the banks amid a slew of traders suing their former companies in the wake of currency and Libor-rigging scandals. Lloyds Banking Group Plc, Citigroup Inc., Royal Bank of Scotland Group Plc and HSBC Holdings Plc all have cases ongoing or pending.
Alaoui Belghiti, a Moroccan national with British citizenship, said that she was allocated bad client accounts that affected her performance. The bank said her profit and loss was "hugely down" in 2013 compared with the previous year.
"You have had problems where you worked before due to your personality," James Laddie, Jefferies' lawyer, said during cross examination this week.
"I acknowledge I have a temper and have always been ready to voice my opinion and stand up for myself," she said in her witness statement.
Alaoui Belghiti, who earned 175,000 pounds a year in basic pay, joined Jefferies in 2010 as a vice president after having worked at Lehman Brothers Holdings Inc.
Before it's here, it's on the Bloomberg Terminal.
LEARN MORE