Investors Are Paying Extra for Environmentally Friendly Bonds, Barclays Says
Sales of "green bonds" have been increasing, but so have their prices.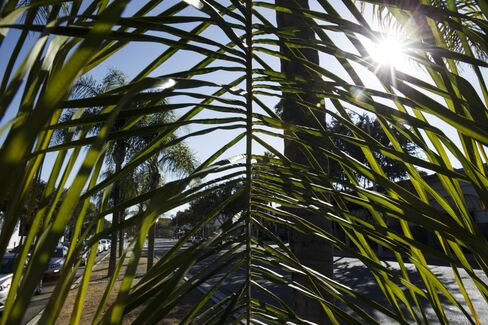 What's in a name? Twenty basis points, apparently.
"Green bonds" have become the credit market craze du jour as investors flock to finance all things sustainable, environmentally friendly, and socially responsible. Funds managing more than $4 trillion worth of assets now (admirably) incorporate "environmental, social, and governance" values into their mandates, according to the Forum for Sustainable & Responsible Investment. Basic morality is now big business.
Sales of green bonds, the proceeds of which are meant to be used for environmentally friendly projects such as renewable energy or sustainable offices, have been proceeding at a rapid clip and have totaled more than $80 billion in the five years since 2010, according to Bloomberg data. The green debt has often been pitched to investors as carrying the same prices as conventional bonds that do not come with a green label.
New research from Barclays, however, pours cold water on the pricing idea.
Analysts Ryan Preclaw and Anthony Bakshi find that investors have been paying an extra 20 basis points for that warm and fuzzy feeling of being environmentally friendly. In fact, Barclays's research shows the added cost of being green has been increasing steadily over time, in tandem with an influx of interest from investors.
Investors are currently paying a premium to acquire green bonds, at least in the secondary market. Our model finds an approximately 20bps difference between the spread of green bonds and comparable issues, which we see as partly attributable to opportunistic pricing based on strong demand from environmentally focused funds.

Source: Barclays
In exchange for that extra 20bps you get … well, that's not entirely clear.
Green bonds remain a morass of highly varied debt instruments, with their issuers sometimes agreeing to voluntary "Green Bond Principles" or hiring outside firms to evaluate their environmental credentials. (Barclays says that about 60 percent of total green bond issuance so far has come with an external review).
As for that pricing discrepancy, the Barclays analysts cite a few theories, ranging from the reasonable to the economic externality variety. In the reasonable camp is the simple claim that strong investor interest has led to a supply/demand imbalance that has been pushing prices higher. At the more esoteric end is the argument that green bonds' higher pricing reflects the overall benefits of mitigating climate risk, although as Barclays notes, "it is not entirely clear why conventional bonds would not also receive the benefits from the existence of green bonds."
Whatever the case, if accurate, Barclays's price findings do raise questions about the possibility of companies simply "greenwashing" their bonds to lock in that cheaper funding cost.
Or as the analysts put it rather succinctly:
This may be a challenge for the sector – while the potential financial benefits of green bonds are nebulous and the returns have historically been in line with conventional bonds, it is increasingly clear that green bonds trade at tighter spreads than otherwise similar conventional paper. If that spread divergence continues, investors and their sponsors will need to consider exactly how much they are willing to pay to be green.
Before it's here, it's on the Bloomberg Terminal.
LEARN MORE