Singapore Says the Key to Resolving Haze Is Indonesian Enforcement
Singapore canceled outdoor events, Malaysia shut schools

Indonesia set 15 to 30-day deadlines to fight forest fires
Indonesia's enforcement of its laws against plantation owners is key to resolving the haze from the country's forest fires that covered parts of Southeast Asia, Singapore's environment minister said.
The smog, which drove pollution levels to "very unhealthy" levels in Singapore this week, has led to the cancellation of outdoor events and puts the city-state's Formula One race this weekend at risk. The gauge has retreated to a "moderate" level today. Elsewhere in the region, schools were shut in parts of Malaysia earlier this week and flights were diverted.
"The key question is why haven't they been able to enforce their own legislation," Vivian Balakrishnan, Singapore's minister for environment and water resources, said in an interview in the city-state on Friday. "Until and unless you get political will and effective action on the ground in Indonesia, this problem is not going to be solved."
Indonesia set a 14-day deadline starting to extinguish fires in Riau, and a 30-day target for South Sumatra and Jambi, Willem Rampangilei, head of the country's disaster mitigation agency, told reporters in Jakarta on Wednesday. The government has detained suspects in companies in various parts of the country, Rampangilei said.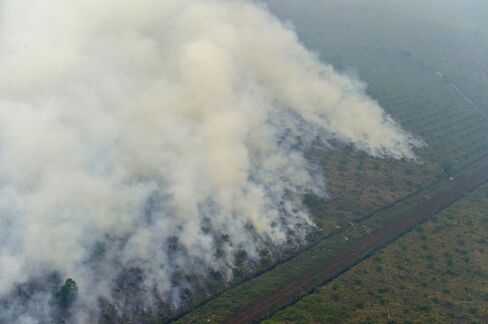 Indonesia will take firm action on concession holders and blacklist directors, commissioners and owners involved in forest fires, Luhut Panjaitan, coordinating minister for politics, law and security affairs, said on Wednesday in Jakarta, adding he was betting his reputation on the matter.
"It's a question of political will, investigation and enforcement," Balakrishnan said. "The rest of it, regional coordination, is icing on the cake."
Organizers of the Formula One race, which will also include concerts by Maroon 5 and Bon Jovi, said it has contingency plans such as selling N95 masks at cost and having medical personnel on standby for haze-related conditions.
Before it's here, it's on the Bloomberg Terminal.
LEARN MORE