Fed likely to raise rates in December, or early in 2016

Greenback will rise to 125 yen, Principal's McCaughan says
The dollar is poised to strengthen to parity with the euro in the next 12 months as the Federal Reserve is still on course to raise interest rates, even after deciding not to act this week, according to Principal Global Investors.
The U.S currency will likely appreciate to 125 yen during the same period, said Jim McCaughan, chief executive officer of Principal, which manages about $350 billion. The Fed decided at its meeting Thursday against raising its benchmark amid financial market turmoil and rising risks of a global economic slowdown.
"It would require a much greater shock than I see to the world or U.S. economy to see rates not go up," New York-based McCaughan said in an interview in Singapore. "The dollar will not be held back by the dovish monetary policy for an awful lot longer."
The U.S. currency was at $1.1402 per euro as of 7:45 a.m. in London, having fallen more than 8 percent from a 12-year high of $1.0458 set on March 16. The greenback was at 119.70 yen, weakening from a 13-year peak of 125.86 set in June.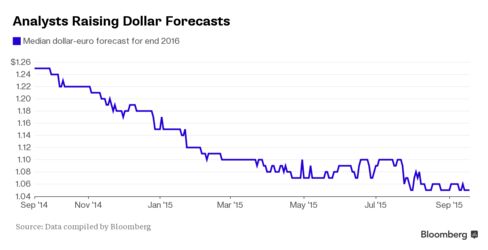 The last time the dollar was at parity with the euro was in December 2002. There is a 17 percent chance the U.S. currency will reach that level again in the next 12 months, according to data compiled by Bloomberg.
The Fed will probably boost rates in December, although it may delay liftoff until the first quarter if it remains concerned a strengthening dollar will hurt exports, McCaughan said.
There is a 44 percent chance the Fed will boost rates in December, compared with a 64 percent probability on Wednesday, according to data compiled by Bloomberg based on the assumption that the effective fed funds rate will average 0.375 percent after the first increase.
Analysts predict the dollar will appreciate to $1.05 per euro and 127 yen by the end of September 2016, according to the median estimates of surveys compiled by Bloomberg.
'Significant Pressure'
"I would expect in the next 12 months to see significant pressure against the euro, where the dollar could again flirt with parity," McCaughan said. "You could see the yen under downward pressure from the 120 level. You could see 125 pretty easily, but only when the Fed gets off this ultra easy monetary policy."
The European Central Bank and Bank of Japan will probably boost monetary stimulus in an effort to boost inflation, he said.
"They will probably get even more reliant on monetary policy since politically, it's much more difficult to do either the structural reform or fiscal expansion," he said.
'Oxygen Tent'
The central bank should raise rates sooner rather than later due to signs the U.S. economy is strengthening, McCaughan said.
Fed Chair Janet Yellen said policy makers discussed the possibility of raising rates this week but decided not to due to heightened uncertainties abroad and the slightly lower expected path for inflation.
"It doesn't look like it needs the oxygen tent of a zero fed funds rate anymore," he said. "They're getting into the territory where they're making a bit of mistake not regularizing monetary policy sooner. They may be stirring up long-term trouble by being too dovish."
Before it's here, it's on the Bloomberg Terminal.
LEARN MORE