Dollar Bulls See Chance to Buy Amid Weakness After Fed Decision
Central bank cites global financial turmoil, low inflation

Futures traders pare back bets on rate increase this year
The dollar weakened after the Federal Reserve refrained from raising interest rates, with some investors seeing the drop as a chance to buy.
A gauge of the U.S. currency against major peers fell to a three-week low as stubbornly low inflation, an uncertain outlook for global growth and recent financial-market turmoil prompted U.S. policy makers to keep rates at a record low, undermining the dollar. It slid most against the currencies of commodity-producing nations such as New Zealand and Australia.
"Whilst the dollar may be heading lower now, the market is only going to turn its attention to December for the next hike," said Jane Foley, a senior currency strategist at Rabobank International in London. "There might be a little bit of position adjustment now but the market is going to start looking ahead. The dollar weakness has only got so far to run."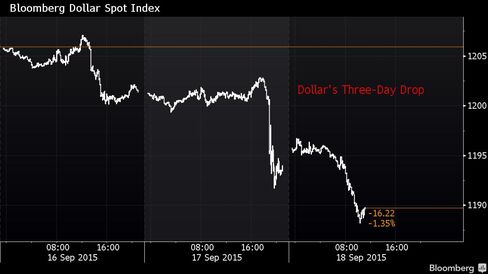 The dollar fell 0.7 percent to 119.20 yen as of 7:05 a.m. New York time, extending its weekly drop to 1.2 percent. The greenback was little changed at $1.1425 per euro, after tumbling 1.3 percent Thursday. It has declined 0.8 percent against Europe's common currency this week. The Bloomberg Dollar Spot Index slid 0.4 percent to 1,189.51, headed for its lowest close since Aug. 24.
The U.S. currency dropped 1.3 percent against the Australian dollar to 72.66 U.S. cents. It slumped 1.3 percent to 64.37 U.S. cents per New Zealand dollar and tumbled 0.9 percent to 13.2277 South African rand, having touched 14.0682 on Aug. 24, the strongest level on record.
Dollar Path
The greenback is poised to strengthen to parity with the euro and rise to 125 yen in the next 12 months, according to Principal Global Investors. The Fed will probably boost rates in December, although it may delay liftoff until the first quarter if it remains concerned a strengthening dollar will hurt exports, said Jim McCaughan, chief executive officer of Principal, which manages about $350 billion.
"It would require a much greater shock than I see to the world or U.S. economy to see rates not go up," McCaughan, who is based in New York, said in Singapore. "The dollar will not be held back by the dovish monetary policy for an awful lot longer."
Even with bullish sentiment towards the dollar, futures trading shows the probability of an increase this year dropped to 44 percent from 64 percent the day before the Fed meeting. The calculation is based on the assumption that the effective fed funds rate will average 0.375 percent after the first increase, near the mid-point of the range.
Brazil's Real
Speculation that Fed policy makers would raise rates had propelled the dollar higher against most of its major peers this quarter, with the biggest gains versus Brazil's real, Russia's ruble and Colombia's peso.
"We'd be buying the dips for the dollar against most emerging market currencies," Dominic Bunning, a senior currency strategist at the HSBC Holdings Plc, said in an interview on Bloomberg Television's "On The Move" with Jonathan Ferro. "Maybe the Fed's not going to hike for the next month or two but we're still worried about a lot of these domestic growth, inflation profiles. We still haven't really seen a bottoming out of the data in China, so is this good time to be going long EM? Not in our view."
Before it's here, it's on the Bloomberg Terminal.
LEARN MORE