Croatia Approves Swiss-Franc Loans Switch Over Bank Protests
Parliament backs bills in unanimous vote, bank shares fall

Foreign banks threaten to sue Croatia in international court
Croatia's parliament passed legislation allowing Swiss-franc loans to be converted into euros, ignoring threats from foreign banks that they would challenge the plan in international court and central bank warnings that the move may weaken the kuna.
The package of laws allows the switch of $3.4 billion of Swiss-franc loans into the single currency to help citizens cope with rising payments. The government expects the banks to bear the conversion costs it estimates at as much as 6 billion kuna ($900 million), while the central bank says the burden may reach 8 billion kuna. Shares of foreign banks with the largest market share in Croatia declined after the vote in Zagreb on Friday.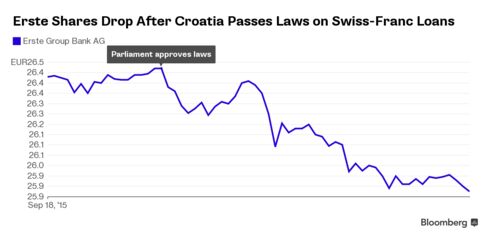 Like other eastern European countries including Hungary and Poland, mortgages and consumer loans in francs were popular in Croatia because they offered lower rates than those in the national currency. Their political significance rose after Switzerland removed the limit on franc gains in January, allowing the currency to surge. Croats are now forking out more kuna to cover payments, and many are struggling to keep up.
"Such legislations are discussed mainly in countries in a state of some political instability," Piotr Palenik, an analyst at ING Bank Slaski SA in Warsaw, said by phone. "This is more a political problem than any other. It may frighten investors now, but it won't change their perception of the region."
Five foreign banks said on Sept. 14 that they are preparing to sue Croatia in the International Center for Settlement of Investment Disputes in Washington should the government continue with its plan. The lenders said they were sending "pre-notices of dispute" to the government in Zagreb, Ingrid Krenn-Ditz, a spokeswoman for Raiffeisen Bank International AG in Vienna, said on behalf of the group of banks that also included Erste Group Bank AG, UniCredit SpA, OAO Sberbank and Hypo Group Alpe Adria AG.
Erste will "consider in detail the available legal instruments with the goal of protecting the bank's assets" after the law passed, it said in an e-mailed statement. Raiffeisen declined to comment. Erste fell 3.2 percent and Raiffeisen 3.7 percent by 4:35 p.m. in Vienna, while UniCredit dropped 2.4 percent in Milan, and Intesa Sanpaolo SpA was down 2.8 percent.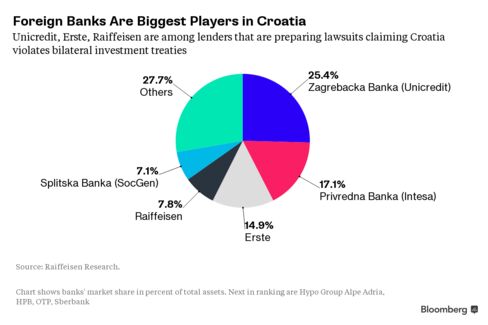 When the bills were proposed, the banks said the legislation violated European Union laws and bilateral investment treaties, and appealed to the government to reopen talks and find a compromise solution that would help the most vulnerable borrowers.
While the new law will impose significant one-time losses on banks, their capitalization will remain "robust" and "the switch should also help stabilize non-performing loans, which have grown rapidly in recent years," Fitch Ratings said in a statement.
There are about 55,000 franc-denominated loans outstanding in Croatia, totaling 23.1 billion kuna in face value, according to the Croatian central bank. About 38 percent of all mortgages are franc-denominated. Even more have been taken out in euros, but they are of less concern because the kuna is pegged to the common currency.
The government in January enacted a special law freezing for a year the exchange rate for these loans at 6.39 kuna per franc. That rate is below the current market rate of 6.99 kuna per franc, while still higher than rates when most loans were taken.
In Poland, international bank owners including General Electric Co. and Raiffeisen, protested a draft bill that would force them to share the cost of converting franc mortgages into zloty last week, also threatening to claim damages from the government under investment-protection treaties.
Before it's here, it's on the Bloomberg Terminal.
LEARN MORE