A Refugee's Survival Guide to Crossing Greece
Businesses are mobilizing to offer essentials to the thousands of people on the move through Greece.
Vodafone sales staff are among the first people to greet the thousands of refugees arriving every day in Athens from the country's outlying islands.
There were six of them at Piraeus Port when we visited, kitted out with Vodafone-branded caps and bags.
One Vodafone saleswoman said she can sell up to 20 SIM cards for €10 or €15 ($11 or $17) a day.
Vodafone is one of a host of businesses benefiting from the custom of more than 270,000 refugees to have crossed into Greece since the start of this year. Travel agents, taxi drivers, money changers and restaurants have also been getting a welcome boost.
"It was a good time that they came and our business is running, not so good, but it's running," said Jenny Zagga, the co-owner of Athenian Travel, which lays on buses from Athens to the Macedonian border for €50 euros per person.
We followed one group of Syrian refugees as they navigated their way through the Greek capital.
Badr, a 24-year-old student from Aleppo, took out around €800 euros from a branch of Western Union to cover costs for the group. The money had been sent from his brother, an engineer working in Dubai.
"We must buy shoes, warm clothes and food," he said. "We don't know what lies ahead for us so we must be prepared."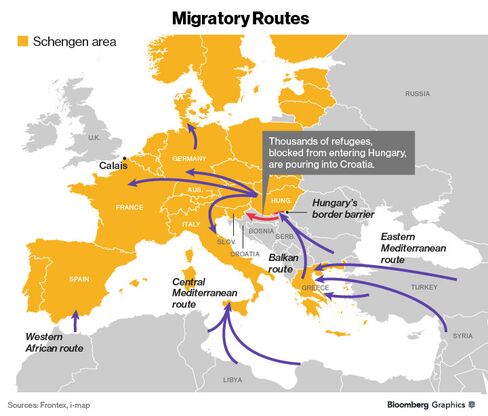 Before it's here, it's on the Bloomberg Terminal.
LEARN MORE