Yellen Has a Message For Lawmakers Threatening a Government Shutdown
Don't mess with the economy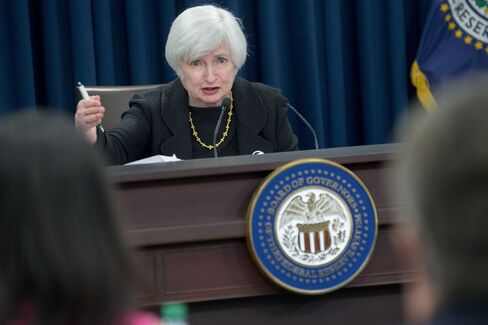 On Wednesday night, a few Republican presidential candidates opined on a call to shut down the federal government rather than continue to fund Planned Parenthood.
At a press conference the next day, Federal Reserve Chair Janet Yellen seemed to have a message for them and anyone else who's considering holding the budget hostage: Don't even think about it.
"We have a good recovery in place that's really making progress, and to see Congress take actions that would endanger that progress—I think that would be more than unfortunate," Yellen said at the conclusion of a two-day meeting on monetary policy.
While the threat of a shutdown played "absolutely no role" in the central bank's decision to delay an interest-rate increase, it could very well become a risk going forward, joining market turmoil, sluggish global growth and weak inflation as potential negatives to the U.S. economy.
Funding for the government expires on Sept. 30, and some Republicans are insisting that any bill they send to President Barack Obama should cut money for Planned Parenthood. The women's health-care provider has been scrutinized since the release of undercover videos showing some staffers discussing reimbursement for fetal tissue they provide medical researchers.
"Republican leadership in both houses has begun this discussion by preemptively surrendering to Barack Obama and saying, 'We'll give in because Obama threatens a veto,'" Texas Senator Ted Cruz said at the Republican presidential debate in Simi Valley, California. "We need to stop surrendering and start standing for our principles."
If that stance led to a shutdown, what follows could be a replay of October 2013, the last time such an event occurred. Consumer confidence plunged, economic reports were delayed and many Americans were temporarily thrown out of work.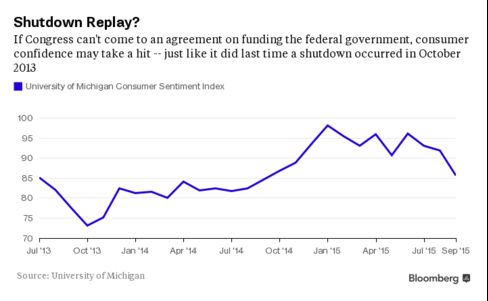 That may be one reason Republican Ohio Governor John Kasich, who served in Congress and chaired the House Budget Committee, last night urged caution when it comes to shutdown rhetoric.
"All we're gonna do is shut the government down, and then we're gonna open it up, and the American people are gonna shake their heads and say, 'What's the story with these Republicans?'"
-With Sahil Kapur.
Before it's here, it's on the Bloomberg Terminal.
LEARN MORE