Under the Hood of U.S. Housing Starts Is Tamer Rental Inflation
More buildings with five or more units are under construction

Number of buildings under construction highest since 1974
Here's one key takeaway from the Commerce Department's report Thursday in Washington that showed housing starts fell in August, indicating the real-estate recovery will take time to evolve. It also showed the number of buildings with five or more units under construction climbed to the highest level since December 1974.
A lack of supply for apartments and growing demand as younger Americans begin to venture out on their own has pushed up rents, one of the few areas underpinning inflation. Rental vacancy rates are the lowest since 1985.
While it will take time to finish these projects, the increase in multifamily construction will eventually boost supply, helping to moderate rent increases.
Federal Reserve policy makers, meeting today in Washington, have missed their goal of 2 percent inflation.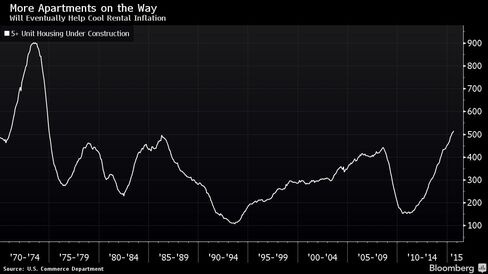 What economists said after the report:
"There's been a meaningful improvement in multifamily construction and it's going to continue," said Michelle Meyer, deputy head of U.S. economics at Bank of America Corp. in New York. "Rental inflation should moderate when supply picks up." Still, Meyer said that will take some time and rental inflation will remain "quite solid" even into next year.
Before it's here, it's on the Bloomberg Terminal.
LEARN MORE