Under the Hood of Japan Exports, Volume Trails Yen-Boosted Value
Here's a key takeaway from Japanese exports data Thursday that showed overall shipments rose 3.1 percent in value terms in August: There's been close to no gain at all this year in the volume of goods sold.
With the finance ministry pricing exports in yen, values are up 7.3 percent this year, in stark contrast to a 0.6 percent increase in volumes. The advantage in the headline value numbers has more to do with the central bank's monetary easing and the global currency market than it does with Japan's industrial heartland.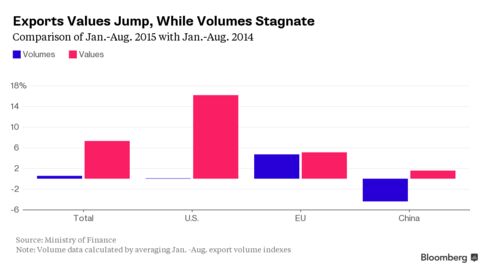 The yen averaged 121.02 per dollar in the eight months through August, versus 102.44 in same period last year. That's an 18 percent boost this year if you think in terms of a Japanese company selling a product abroad in dollars and then repatriating the earnings into yen.
The tally for regional figures so far this year:
To the U.S.: value +16 percent, volume +0.1 percent
To the European Union: value +5.1 percent, volume +4.7 percent
To China: value +1.6 percent, volume -4.4 percent
Before it's here, it's on the Bloomberg Terminal.
LEARN MORE