U.K. Labour's McDonnell Says Sorry for 2003 Remarks Honoring IRA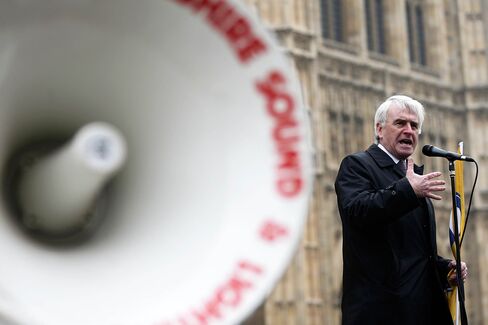 U.K. opposition Labour Party finance spokesman John McDonnell apologized for saying in 2003 that members of the paramilitary Irish Republican Army should be "honored."
Challenged on BBC Television's "Question Time" show on Thursday evening, McDonnell said he made the remarks to a group of republicans in an effort to convince them not to quit the peace process in Northern Ireland, though he now regretted his choice of words.
"If I gave offense, and I clearly have, from the bottom of my heart I apologize," McDonnell said. "My choice of words were wrong. I should not have said the issue about the honoring." His words drew applause from the studio audience in north London.
Newly elected Labour leader Jeremy Corbyn's decision to appoint McDonnell, a hard-line socialist, to the most important post in his team of shadow ministers caused controversy within the party, both because of his economic policies and the controversial comments he's made in the past. Prime Minister David Cameron told Parliament Wednesday McDonnell should be "ashamed" of his words about the IRA.
"I went out and argued for the peace process," McDonnell said. "I made this speech to a group of republicans. If there was a feeling they were defeated or humiliated they would not stand down."
McDonnell ended by saying that he rejected political violence, but "had to use the language that republicans understood so that we could secure the path to peace." He also apologized for a comment he once made that he would have liked to assassinate former Tory Prime Minister Margaret Thatcher, saying it was "an off-the-cuff remark."
No Withdrawal
Questions about whether the new Labour team holds extremist views dominated the debate. Labour has no plans to pull out of the western military alliance or disband the British army, McDonnell said. "We have never advocated withdrawal from NATO," he said.
Asked about his economic policy, McDonnell said Labour would debate raising the top rate of income tax back to 50 percent and "come back with concrete proposals."
Toward the end of the show, McDonnell attempted to explain Corbyn's failure to sing the national anthem at a World War II commemoration this week, which drew accusations of disrespect toward Queen Elizabeth II. The Labour leader normally sings "God Save the Queen," McDonnell said, but he'd been unable to join in this time because he was "very moved" by the event.
Before it's here, it's on the Bloomberg Terminal.
LEARN MORE