Texas Drag on Calpine Shares Is Turning Its 'Smile' to a Frown
Shares of the Texas generator are down 30% over last year

Ercot power prices have fallen in lockstep with natural gas
Calpine Corp. lauds its U-shaped revenue curve.
The "Calpine Smile," as the company described it to investors last year, allows the power producer to make profits whether natural gas prices, a key generation fuel, are low or high. That's because the Houston-based company's fleet is concentrated in combined-cycle natural gas, the most efficient generators, putting it in a better position than peers that have a mix of coal, nuclear and traditional gas plants.
Investors aren't smiling. They've sent Calpine's shares tumbling about 30 percent in the last year. At a conference in Boston this week, Chief Financial Officer Zamir Rauf blamed the stock decline on the slump in forward power prices in Texas, a reflection of lower commodity prices.
"Most of these merchant generators are always saying it's going to get better," Paul Patterson, a New York-based energy analyst at Glenrock Associates LLC, said in a telephone interview. "Boy, have they been wrong."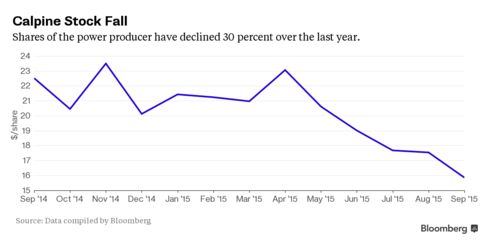 Merchant generators sell power at wholesale market rates instead of state-regulated prices. Unlike regulated utilities, they have no guarantee for recovery of their costs.
So, what happened in Texas?
It's tied to the spark spread, the theoretical margin for a gas-fired power plant from selling electricity after having bought the fuel used to produce that power.The narrower the spread, the less money Calpine makes, the wider the spread, the more money it makes, Patterson said.
The average on-peak power price at the Texas North hub, which includes Dallas, slid 28 percent to $31.36 a megawatt-hour in the last 12 months from the prior year. Spot natural gas at Katy, a major Texas hub, has fallen 35 percent in the last year. More than a third of Calpine's total generation capacity is in Texas.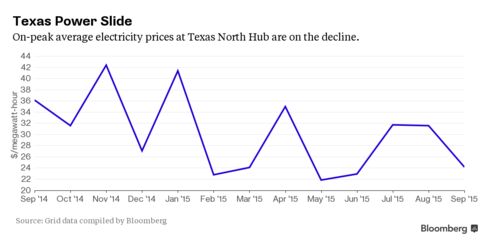 Calpine lobbied unsuccessfully for Texas regulators to implement a capacity market like the mid-Atlantic and Northeast. In such a framework, generators are paid fees for agreeing to hold power in reserve to be used to prevent outages when demand is highest. Worried about higher retail prices, Texas shot down the plan.
Calpine also pushed to increase the price cap at the Texas grid to $9,000 a megawatt-hour in June from $7,000 last year and $5,000 in 2013, in the hope of benefiting when demand is high or power is scarce. So far, the spot price has never reached the level of the new cap, Robbie Searcy, a spokeswoman at the Electric Reliability Council of Texas,said in an e-mail.
Brett Kerr, a spokesman for Calpine, said in an e-mail that the plunge in global commodity prices has had a "bigger impact" on the share price than power prices.
Before it's here, it's on the Bloomberg Terminal.
LEARN MORE