TeliaSonera Plans to Exit Eurasian Markets, Focus on Europe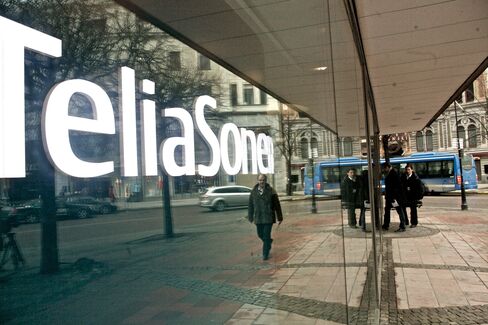 Not possible to estimate how long the divestment will take

`Various' parties interested in operations, CEO Says
TeliaSonera AB, Sweden's biggest phone company, plans to exit Asia and ex-Soviet markets that account for almost a third of earnings to focus on business in Europe and its home Nordic region.
The company has started the process, though it's not possible to estimate how long the divestment will take, Chief Executive Officer Johan Dennelind said in an telephone interview on Thursday. There are potential buyers for the operations, which have a book value of about 20 billion kronor ($2.4 billion), and the carrier may sell the businesses as a whole or market by market, he said.
"We need to assess the situation and timing and various interested parties as we go along," Dennelind said. "This is a strategic decision we have made and that comes with a cost of executing. That should be small in the big picture."
TeliaSonera's shares rose as much as 3.7 percent and were trading 3.6 percent higher to 48.15 kronor as of 10:04 a.m. in Stockholm. The stock has lost 4.5 percent this year, giving the company a market value of 208 billion kronor.
Last year, the businesses TeliaSonera is seeking to exit had sales topping 20 billion kronor, about 20 percent of total revenue. The Eurasia region had earnings before interest, taxes, depreciation and amortization of 10.7 billion kronor, about 31 percent of the company's total. TeliaSonera said Thursday's announcement refers to operations in Nepal, Kazakhstan, Uzbekistan, Azerbaijan, Georgia, Moldova and Tajikistan.
Operations in Russia and Turkey are not included in Thursday's announcement, Dennelind said.
"Strategic sales of the assets are likely to be the solution," Pareto Securities said in a note to investors. "Given the company's significant
market shares in these countries, in-market consolidation efforts are likely to be disputed by antitrust regulators."
Mobile TeleSystems PJSC is a likely acquirer of several of the assets, given its extensive footprint in former Soviet republics, Pareto said.
MTS, Russia's largest wireless carrier, declined to comment on whether it is interested in the businesses.
Uzbeki Probe
Dennelind's predecessor Lars Nyberg resigned on Feb. 1, 2013 after a law firm hired to look into corruption accusations concluded TeliaSonera should have been more careful when it bought an Uzbeki phone license in 2007. Chief Financial Officer Per-Arne Blomquist was fired in November 2013 and three other senior executives left as the fallout from the ethics investigation in former Soviet republics widened.
The company said Thursday it has made improvements in corporate governance and sustainability in those markets, allowing other owners "to develop them further."
Dennelind said in the interview TeliaSonera has partner situations in Eurasia that it isn't able to "unlock or solve" and that the carrier still has cash it can't repatriate from several markets, which he called an "unsustainable situation." Instead, TeliaSonera will focus its growth on Sweden and Europe, he said.
Before it's here, it's on the Bloomberg Terminal.
LEARN MORE