Oaktree-led Bondholders Said to Fight Samson Chapter 11 Plan
Group also including Blackstone says senior loan now worthless

Bankrupt oil-and-gas producer undone by energy-price collapse
Oaktree Capital Group LLC and Blackstone Group LP are gearing up to fight bankrupt Samson Resources Corp.'s plan to hand itself over to lenders led by Cerberus Capital Management LP, according to three people with knowledge of the strategy.
The holders of Samson's $2.25 billion of 9.75 percent senior unsecured notes maturing February 2020 argue that energy prices have dropped so low that the $1 billion second-lien term loan held by the Cerberus group is now worthless, said the people, who asked not to be named because the talks are private.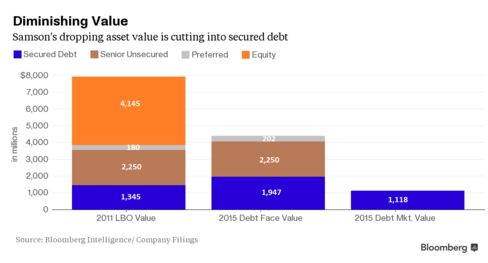 Under the plan now in place, Cerberus and other lenders including Silver Point Capital LP and Anschutz Investment Co. would cancel the debt Samson owes them in exchange for ownership. They would then contribute as much as $485 million to pay down first-lien debt that ranks ahead of them and to fund operations. Under that scenario, the bondholders claim they would be wiped out.
The senior unsecured notes, which traded at one cent on the dollar at 12:49 p.m. in New York, essentially lost all their value since they were issued in August 2014.
The bondholders will argue the two creditor groups should be treated equally and share in the residual value of Tulsa, Oklahoma-based Samson, which filed for Chapter 11 protection late Wednesday, the people said.
Crude dropped more than 50 percent in the past 12 months amid a global supply glut. West Texas Intermediate for October delivery traded at $44.81 a barrel on the New York Mercantile Exchange Friday.
Bondholders who tried to orchestrate an out-of-court debt exchange in the weeks preceding the restructuring support agreement announcement will receive a mere 1 percent value of the new company, worth about $6 million, if their class supports the plan, 0.5 percent if they don't, according to a report by Bloomberg Intelligence analyst Philip Brendel.
Under the U.S. Bankruptcy Code, secured creditors, like the second-lien lenders, can normally only collect an amount up to the value of the collateral. Any debt not covered by the collateral is generally considered unsecured, which means the lenders would get paid from a separate pool of money or assets that they have to share with unsecured creditors.
The bondholders have hired Moelis & Co. and White & Case LLP as litigation advisers, replacing Jefferies Group LLC and Wachtell Lipton Rosen & Katz, one of the people said. Debtwire previously reported the advisory hirings.
Spokesmen for Samson, Oaktree, Cerberus, Blackstone, Moelis and Silver Point declined to comment. A spokeswoman at White & Case didn't respond to phone calls and e-mails.
Samson was taken private in 2011 by a group of investors led by New York-based KKR & Co., controlled by billionaire investor Henry Kravis. The group added $3.8 billion in debt on the company at the time. Including capitalized costs, rollover debt and fees, the total package came to $7.9 billion.
Before it's here, it's on the Bloomberg Terminal.
LEARN MORE