Paris Is Sharing Electric Cars by the Thousand. Will It Play in Indianapolis?
Gentlemen, start your environmentally friendly engines.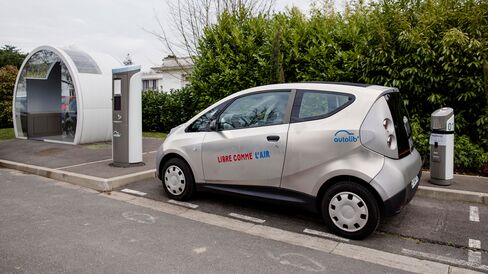 An electric car share called Autolib' has been a hit in Paris, with more than 3,300 of its distinctive silver hatchbacks cruising the streets or recharging at curbside stands. Users can pick up a car at any of nearly 1,000 stands, then drop it off at a stand near their destination, for as little as 20¢ a minute. No surprise, then, that London and other cities outside France have looked at replicating the four-year-old program.
What may be more surprising is that the first city to take the plunge is Indianapolis.
Its BlueIndy car share, backed by the same French company that runs Autolib', was launched on Sept. 2 with an initial fleet of 52 cars, which will expand to 500, with 200 recharging stations planned. BlueIndy's general manager, Scott Prince, says demand has "exceeded our expectations," with more than 500 people signing up in the first two weeks. BlueIndy users register on its website, then can opt for a one-time rental costing $8 for the first 8 minutes and 40¢ a minute after that, or a weekly, monthly, or annual membership offering per-minute costs as low as 20¢.
Indianapolis Mayor Greg Ballard has said he's "delighted to welcome BlueIndy as a clean, affordable transit option" for residents and visitors to Indiana's capital, which like many midsize U.S. cities doesn't have much mass transit. Ballard ponied up $6 million in city funds to top off the $41 million being spent on the program by Groupe Bolloré, the French manufacturer of the four-seat, battery-powered cars, which have a range of 150 miles between recharges.
BlueIndy will be an important test for Groupe Bolloré, which hopes to create a worldwide market for the lithium metal polymer batteries that power the cars. Bolloré spent more than €3 billion ($3.4 billion) to develop the technology, and Vincent Bolloré, the chairman and chief executive, has said he is keen to test its performance in Indiana's cold winters and hot summers. "Indiana shouldn't be more complicated than Paris," he told Bloomberg News this year.
Well.
BlueIndy has gotten off to a bumpy start in this city of 850,000, host to America's most famous auto race. Local business owners have groused about recharging stands taking up parking space outside their establishments, while disgruntled taxpayers complain about the expenditure of public funds on a project run by a French company. Some city council members, angry that the mayor didn't seek their approval for the outlay, have even threatened to have BlueIndy cars towed off the streets. Autolib' has drawn little criticism in France.
BlueIndy's Prince predicts that complaints will die down as residents see the benefits of having "silent, zero-exhaust" cars on the streets. Another likely draw, he says, is the convenience and low cost of one-way rentals. Car2Go, a subsidiary of Germany's Daimler, offers one-way rentals of two-seater Smart cars in several U.S. cities, including New York, Washington, and Seattle, although its cars aren't electric except in San Diego.
Prelaunch market research suggested that the program would appeal to college students and "millennial urban workers" living in central Indianapolis, Prince says. The initial recharging stands are clustered in downtown Indianapolis and in a northern neighborhood near Butler University known for its restaurants and nightlife. A stand is planned at the Indianapolis airport.
BlueIndy needs to attract enough renters to offset its startup cost of $50 million, which includes contributions from the local electric utility, as well as from the city and Bolloré. According to U.S. Census figures compiled by Governing magazine, vehicle ownership in Indianapolis averages 1.6 per household, close to the U.S. average of 1.8, and there are 8.5 vehicles for every 10 adults in the city.
"It's going to be a huge educational adjustment," Richard Steiner, president of the Hoosier Electric Vehicle Association, told the Indianapolis Business Journal last month. "As Americans, we consider our car an extension of ourselves."
Before it's here, it's on the Bloomberg Terminal.
LEARN MORE