Mozambique Opposition Says President Ordered Attack on Leader
Renamo says convoy fired on with light arms, bazookas

Ruling party rejects accusation of attack as an `invention'
Mozambique's main opposition movement said the president of the gas-rich southern African country personally ordered the weekend ambush of a convoy transporting the party's leader and that it intends to avenge the attack.
The Mozambique National Resistance made the allegation against President Filipe Nyusi at a press conference Thursday in the capital, Maputo. Renamo, as the group is known, presented details of the attack to the prosecutor general in Manica province on Sept. 14, party Secretary-General Manuel Bissopo told reporters. Ruling party spokesman Damiao Jose has said Renamo's allegation of an attack is "an invention."
Portuguese news agency Lusa reported late Sept. 12 that a convoy of Renamo cars, including one containing leader Afonso Dhlakama, was fired on by police agents on its way to Chimoio, the capital of Manica, near the border with Zimbabwe. Police spokesman Inacio Dina on Sept. 15 denied knowledge of the attack.
The alleged incident "represents the first drastic escalation of tensions since the 2014 peace deal" between Renamo and the ruling Front for the Liberation of Mozambique, Anne Fruhauf of Teneo Intelligence in New York, said in an e-mail. "The government must deny any top-level involvement to avoid crossing a red line in the low-level conflict."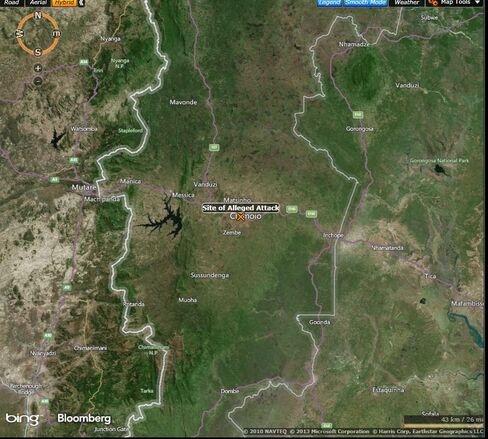 The convoy shooting would make it harder to implement the peace deal and could trigger a new round of threats and small-scale attacks in central provinces, which will harm investor perceptions of country risk, Fruhauf said.
Mozambique has enough gas to be the third-largest supplier of gas chilled to liquid for shipment, according to Anadarko Petroleum Corp., which has said it targets a final decision on whether to develop a project in the country before year-end. Woodlands, Texas-based Anadarko estimates it has 100 trillion cubic feet of gas in its concession off the north-eastern coast.
"To date, the sporadic violence has not discouraged key investors such as Anadarko in the north, though coal companies operating in central provinces face a greater direct threat," Fruhauf said. "Continued failure to implement the 2014 peace plan would be negative for country risk ratings, logistical operations and insurance premiums."
Renamo says in its statement to the Manica prosecutor that the convoy's attackers used light arms and PRG7 bazookas. Renamo believes the attack was "planned, organized and ordered" by the head of the armed forces who "received direct orders" from Nyusi, Bissopo said.
"Renamo will use all means at its disposal to avenge this attempt to assassinate" Dhlakama, Bissopo said. "This is not a declaration of war, but it should be clear that we will react."
Before it's here, it's on the Bloomberg Terminal.
LEARN MORE