Mas's Independence Gamble Risks Catalan Pocketbooks: Five Charts
Trade-links to Spain, EU at risk from push to break away

Job creation lagging the rest of Spain as economy recovers
Catalans head to the polls on Sept. 27 in a vote that regional President Artur Mas has framed as a de facto referendum on independence.
If separatist parties secure a majority and Madrid refuses to negotiate, Mas says he'll declare independence unilaterally within 18 months. But separating from Spain, and perhaps also the European Union, would pose significant costs.
These five charts show some of the economic considerations weighing on Catalans as they head to the polls:
Though supporters of independence argue that Spain is a drag on Catalonia's more entrepreneurial culture, the region is trailing the rest of the country in its efforts to put people back to work after the financial crisis.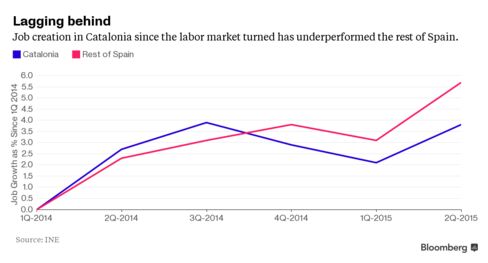 Catalonia, as one of Spain's wealthier regions, pays more in taxes to the central government than it gets back in spending. While Madrid's contribution to supporting poorer areas is almost three times Catalonia's, it's the Basques, who negotiated more fiscal independence under the Spanish constitution, who draw the attention of bean counters in Barcelona.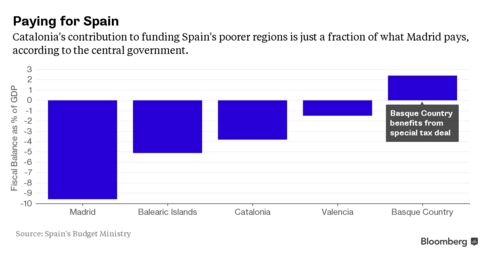 Like many Spanish regions, Catalonia lost access to international markets during the crisis and is currently supported by interest-free loans from the state rescue fund. The extra yield investors demand to hold the regional government's outstanding debt instead of similarly dated Spanish paper has jumped by more than 100 basis points in the run up to the election on concern about the financing of a Catalan state.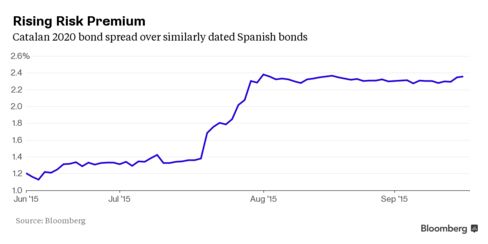 Catalan demands for independence have antagonized many Spaniards and previous surges in separatist sentiment have led to boycotts. Full independence would strain the region's economic links with the rest of the country.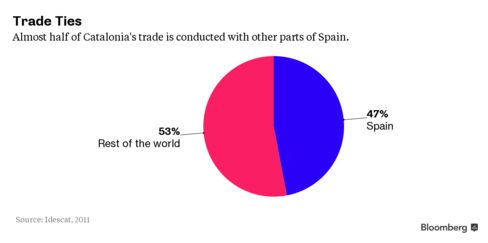 While separatists dispute the official line that independence would force them out of the EU, exclusion could see Catalan businesses facing barriers to their main export markets.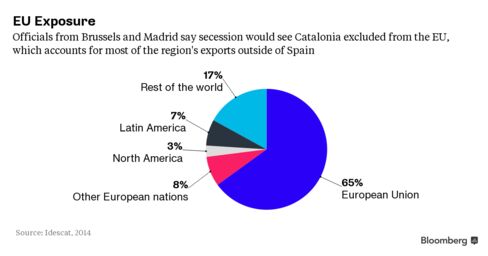 Before it's here, it's on the Bloomberg Terminal.
LEARN MORE