Japan Riskier Than Korea? S&P's Call Not Backed by Default Swaps
Japan CDS drops to lowest in more than three years vs Korea

BNP Paribas says downgrade itself won't boost bond yields
Standard & Poor's now says Japan's debt is riskier than South Korea's for the first time ever. The bond market doesn't seem convinced.
The cost to protect against a sovereign default in Japan fell for a third day Wednesday after S&P's latest downgrade was announced, and this year's decline was the most among developed nations after Portugal. The benchmark credit-default swap reached the lowest relative to South Korea in more than three years last month as investors fled emerging markets amid a deepening slowdown in China.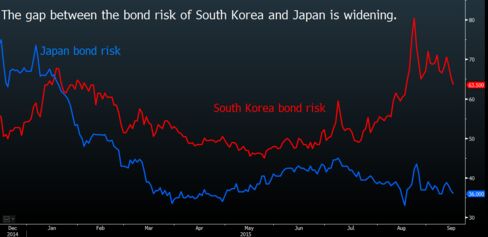 While S&P analysts cited doubts about Prime Minister Shinzo Abe's economic strategy when cutting Japan's rating by one level to a record-low A+, many investors are betting the Bank of Japan's unprecedented asset-buying program will cap bond yields at the lowest globally after Switzerland. The ratings company effectively swapped the two countries' credit scores, after upgrading Korea one level to AA- a day earlier, pointing to its sound fiscal position and relatively strong economy.
"The ratings firms tend not to take into account the effect on supply and demand from the BOJ's massive bond purchases," said Toru Suehiro, an economist at Mizuho Securities Co. in Tokyo. "While the BOJ's stimulus continues, there's likely to be very little adverse impact on the bond market from a rating downgrade."
Default Risks
The cost to insure against a Japanese sovereign default was 36 basis points on Wednesday, according to CMA data, after sliding 31 basis points since the start of the year. For South Korea, it was 63 1/2 basis points, rising nine basis points so far in 2015. The gap between them widened to 38 basis points on Aug. 24 at the height of a China-led stock rout that had wiped out more than $8 trillion from global equities.
The benchmark CDS for China, which shares an AA- rating with South Korea at S&P, traded at the biggest premium to Japan since March 2009 last week, with the gap reaching 83 basis points.
"While South Korea's economic situation is better than some other emerging economies, Japan is still the only developed nation in Asia," said Seo Jeong Hun, an economist at KEB Hana Bank's currency and derivatives sales division in Seoul. "S&P cited concerns for Japan's high public debt, which is a long-standing issue."
Japan remains the most heavily indebted nation in the world, with total outstanding borrowings of more than a quadrillion yen ($8.3 trillion). Debt will represent 246 percent of gross domestic product this year, and that will likely swell to 290 percent by 2030, according to the International Monetary Fund. South Korea's ratio will be 37 percent in 2015, according to the IMF.
'Very Meaningful'
"S&P's decision to upgrade is very meaningful considering that other countries' ratings are being lowered amid emerging market uncertainties," South Korea's finance ministry said in a statement on Sept. 15. "It will be a chance for South Korea to be recognized as an advanced economy to foreign investors."
Japan's Ministry of Finance declined to comment Thursday on ratings companies' decisions. Finance Minister Taro Aso on Friday also said he is not going to comment on the action, responding to a question about the S&P's downgrade.
Bond investors remain focused on the BOJ's quantitative easing, which has scope to snap up every new bond the government issues. Central bank governor Haruhiko Kuroda reiterated Thursday that policy makers will continue stimulus until they achieve stable 2 percent inflation, making adjustments as appropriate.
Bank Downgrades
It's not the first time the market has moved counter to a downgrade for Japan. S&P's rating actions follow an equivalent cut by Moody's Investors Service in December. Ten-year JGB yields dropped to a record low of 0.195 percent the following month.
Sumitomo Mitsui Financial Group Inc. and Mizuho Financial Group Inc. were among Japanese banks that had their credit ratings cut by S&P following its downgrade of Japan, while Mitsubishi UFJ Financial Group Inc. was left unchanged.
Japan's benchmark yield was at 0.34 percent on Friday, compared with 2.25 percent in South Korea.
"It's not like the downgrade itself will boost sovereign bond yields," Ryutaro Kono, the chief Japan economist at BNP Paribas SA, said at a meeting with journalists in Tokyo Thursday. "However, if rating cuts continue, it would hurt the creditworthiness of Japanese financial institutions and affect their ability do business abroad. Delaying efforts to restore fiscal health will result in a dire situation."
Before it's here, it's on the Bloomberg Terminal.
LEARN MORE