Japan's Pension Funds Unexpectedly Sold Stocks Last Quarter
Central bank data show end of 4.5 trillion yen buying spree

``It's quite strange" as GPIF's peers have room to buy: Iwao
Japan's public pension funds sold domestic stocks in the three months through June, ending a five-quarter buying spree that saw them put 4.5 trillion yen ($37.3 billion) into the nation's equity market.
The funds offloaded 406.8 billion yen of local shares in the period ended June 30, the first sale since the last quarter of 2013, according to Bank of Japan data published Thursday. The funds also sold 957.7 billion yen of local sovereign debt, while buying 2.1 trillion yen of overseas assets.
The figures come after the Government Pension Investment Fund, the world's biggest pension fund with $1.2 trillion of investments, released its own data last month showing it has neared the end of an unprecedented shift to stocks from bonds. Foreign demand for Japanese shares is also waning, with overseas asset managers dumping a record 1.42 trillion yen of equities last week, according to finance ministry figures. The Topix index is down 12 percent from an Aug. 10 peak, after rallying for five straight quarters through June 30.
"It's a little unexpected to see public pension funds selling in the second quarter. It's probably because they needed to rebalance after stocks rose and pushed the weights higher," said Soichiro Monji, chief strategist at Tokyo-based Daiwa SB Investments Ltd. "GPIF's allocation shift is almost over."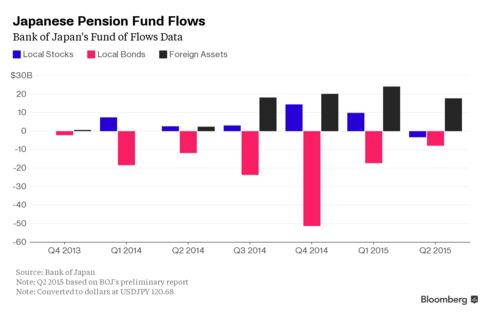 GPIF held about 38 percent of its assets in domestic bonds, 23 percent in Japanese stocks, 13 percent in foreign debt and 22 percent in overseas equities at the end of June, according to documents published in August by the fund. All of the allocations were within three percentage points of its targets.
The Topix index rallied 5.7 percent last quarter, while a gauge of Japanese government bonds slipped 0.2 percent. Global equities lost 0.3 percent.
The BOJ data published Thursday contained significant revisions to pension-fund activity in the March quarter. Public funds bought 1.2 trillion yen of local shares in the quarter through March this year, the central bank said, up from an initial reading of 232 billion yen. They sold 2.1 trillion yen of local government debt during the period, swelling from a preliminary estimate of 72.8 billion yen. The overseas assets category was revised to show 2.9 trillion yen of buying, compared with the earlier report of 92.4 billion yen in sales.
Data from some pension funds didn't arrive in time for the preliminary report for the March quarter, so statisticians at the BOJ substituted estimates based on previous figures, an official at the research and statistics department at the central bank said, asking not to be named citing internal policy. The method of deriving the flow-of-funds data hasn't changed, the official said.
Quite Strange
Asked about the second-quarter preliminary data, "even if we assume that GPIF's data was left out again, other pension funds still have room to buy so it's quite strange we saw them selling," said Yohei Iwao, an executive director and quantitative strategist at Morgan Stanley MUFG Securities Co. in Tokyo, noting he didn't have information on whether GPIF's figures were included.
After GPIF said in October that it would increase stocks and cut bonds, other public pension funds followed, with retirement pools for public servants, local government officials and private school teachers announcing similar allocation goals in March. At that time, the three funds managed about 30.3 trillion yen.
The other funds "have to disclose their allocations next March and, assuming they don't want to be seen lagging their targets this much, we'll likely see them make a move," Iwao said. "There is more buying pressure to come."
Before it's here, it's on the Bloomberg Terminal.
LEARN MORE