Japan Inc.'s Cash Hoard Swells When Spending Is What Abe Craves
Cash and deposits held by Japanese companies rose to yet another record, underscoring a lack of confidence among corporate leaders in the country's economic outlook.
More than two-and-half years into Prime Minister Shinzo Abe's reflation program, the businesses he's counting on to boost investment are sitting on 243 trillion yen ($2 trillion), second-quarter data released by the central bank on Thursday show.
While unprecedented asset purchases championed by Bank of Japan Governor Haruhiko Kuroda have made the Japanese currency more competitive for exporters, spurring profits and stock-market gains, the economy has contracted during three of the last five quarters.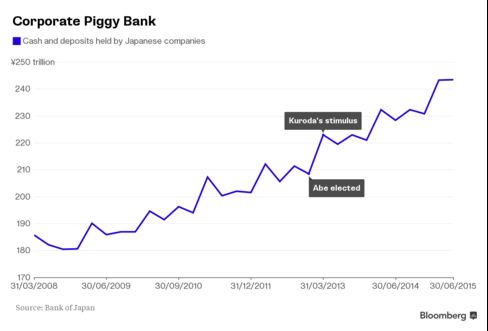 Inflation has slipped back to zero, which may encourage some consumers and businesses to save now and spend later, given there is less likelihood of near-term price rises.
"The deflationary mindset is still deeply rooted," said Hideo Kumano, an economist at Dai-ichi Life Research Institute and former BOJ official. "Companies are not sold on Abenomics."
Data on bank lending to companies is also slowing, indicating softness in demand for funds from businesses seeking to expand.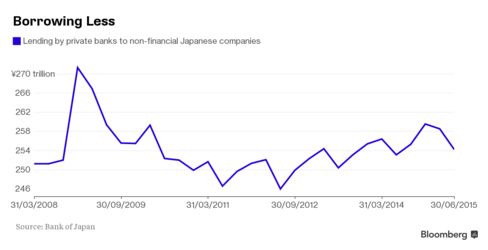 "It's essential to expand private investment," Abe said on Sept. 11 at an economic council meeting attended by government ministers, academics and business executives. "I want to firmly share the idea with various sectors."
Many Japanese companies are increasingly looking abroad rather than at home for investment opportunities. Total direct foreign investment rose to a record 79 trillion yen, according to the BOJ report Thursday.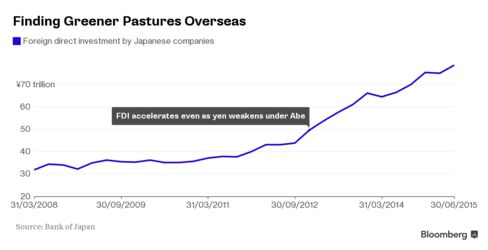 Automakers are one of the strongest examples. With the exception of Toyota Motor Corp., the nation's largest producer, automakers have shrunk their domestic operations down to produce largely for the local market while investing in plants in overseas markets including China and North America, where sales prospects have been brighter.
Honda Motor Co. has scaled back production in Japan for 12 consecutive months and built 35 percent fewer vehicles this year through July. Meanwhile, Honda's production outside Japan rose 7.2 percent in the first seven months of the year.
Before it's here, it's on the Bloomberg Terminal.
LEARN MORE