How Obama Out-Muscled Aipac
The pro-Israel lobby based its power on bipartisan influence. That didn't work well in the deeply partisan fight over Iran.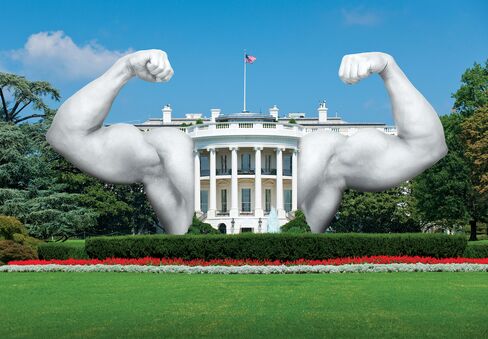 Senator Richard Durbin is on a long list of Democrats who have dismayed the American Israel Public Affairs Committee. The same Richard Durbin who owes his political career to Aipac. In 1982, Aipac members supported Durbin, then an obscure college professor, against Paul Findley's campaign for reelection to the House as retribution for Findley's outspoken advocacy on behalf of the Palestine Liberation Organization. In 2015, Durbin not only supported the president's Iran agreement against Aipac's wishes, he also helped organize his fellow Democrats to defend it. "He has been a great disappointment to the pro-Israel community," says Morris Amitay, a former executive director of Aipac.
Other disappointments include Steny Hoyer of Maryland, the House minority whip, who led this year's Aipac-funded trip of House Democratic freshmen to Israel; and New Jersey Senator Cory Booker, who was an early sponsor of Iran sanctions legislation when he got to Congress. Earlier in the summer, Aipac's leaders believed it was possible to win the support of red state Democratic senators such as Montana's Jon Tester, Missouri's Claire McCaskill, and North Dakota's Heidi Heitkamp. (Republicans didn't need to be persuaded to vote against Obama.) In the end, all of those Democrats supported the Iran agreement, and even helped block a vote on a resolution in the Senate to formally disapprove it.
These kinds of defeats aren't supposed to happen to Aipac. Over the past 30 years, the organization has grown into the most powerful foreign policy lobby in Washington. Its fundraising prowess is fearsome. In a 2013 filing with the IRS, Aipac and a sister organization—the group that funds trips to Israel for members of Congress—recorded more than $70 million in contributions. Aipac also raised $30 million for a group that ran anti-deal television, radio, and Internet ads throughout the country this summer. Its initiatives, particularly on Iran sanctions, passed Congress with bipartisan, near unanimity in 2010 and 2012, over initial White House objections. It's had success in securing military aid for Israel. On this, Obama has done more than his predecessors, financing the development of Israel's Iron Dome rocket defense system on top of the annual $3 billion U.S. subsidy to the country.
Obama, however, is also one of the reasons Aipac couldn't stop the Iran deal: Democrats feared the president more than they feared the pro-Israel lobby. "Aipac went to the Democrats and said, 'We need your help as a friend.' Obama said, 'If you cross me you are going to make an enemy of my machine forever,' " says South Carolina Republican Senator Lindsey Graham. "It's one thing to lose an old friend, it's sad. But you think twice before you make a new enemy."
As it battled the deal, the organization never suspended its "friendly incumbent" rule, the implicit pledge that Aipac members wouldn't direct pro-Israel donations to the opponents of lawmakers who have supported Israel. Several pro-Israel lobbyists and lawmakers say at no point in Aipac's lobbying campaign did the organization directly threaten political retribution against Democrats who voted with Obama. Representative Debbie Wasserman Schultz, who as head of the Democratic National Committee backed the deal, told reporters: "Nobody in Aipac or anywhere directly threatened me." Greg Rosenbaum, chairman of the National Jewish Democratic Council and a member of Aipac's Senate Club, for individuals who pledge to give at least $10,000 per year to pro-Israel candidates, said some Democrats "got a distinct impression that their funding would take a hit" from Jewish groups. But they didn't fear a funded effort to unseat them.
The pro-deal lobbyists were more vocal and much more explicit in turning this into a loyalty-to-Obama issue. While the White House didn't make threats directly, a litany of groups did. Senators Chuck Schumer of New York and Robert Menendez of New Jersey, two Democrats who oppose the deal, were featured on a truck-mounted billboard in New York City sponsored by MoveOn.org calling them "Most Likely to Start a War." A pro-deal group known as Credo-Action derided Schumer as "warmonger Chuck" and called for blocking his path to becoming the party's leader in the Senate upon the retirement of Harry Reid. As the Wall Street Journal reported, the White House in 2014 teamed up with the Ploughshares Fund—an antiwar foundation that spent more than $7 million in the last four years fighting anti-deal groups—to make the case for an Iran agreement.
The unprecedented level of personal engagement by the president, his senior staff, and several top cabinet officials and the amount of pressure from the administration plus its allies dwarfed whatever effort Aipac could mount. "My impression is that the administration did in support of pursuit of the deal what it has not done on any other issue, including Obamacare," says Menendez. "When you make a call to arms and you don't control what people who you call to arms say and do, you certainly have some responsibility."
Administration officials who lobbied lawmakers on the deal said the activism by pro-deal groups had the effect of neutralizing whatever implicit threat senators and representatives might have detected from Aipac's lobbying. Joel Rubin is president of the Washington Strategy Group and until recently the State Department's legislative liaison to the House. A supporter of the deal, he says that if Aipac had made the argument "we will primary you"—that is, work to unseat a lawmaker—then "the emergence of money on the pro-deal side may have made it a trade-off, leveled the playing field, and gave political space to members to focus on the merits."
Aipac was also unable to find any Democratic leaders to push for votes against the deal. The White House could count on Minority Leader Nancy Pelosi in the House, and Durbin and Minority Leader Reid in the Senate. By contrast, Schumer did not press his colleagues to see things his way. "Pelosi and Durbin were whipping votes on this. Who was whipping votes among the Democrats against the deal? Nobody," says Dan Senor, a former adviser to Republican presidential candidate Mitt Romney who worked with some groups opposing the deal. "The pro-Israel movement didn't have an inside play on this."
And just as Aipac was scrounging for two more Democratic senators to vote against a filibuster in the Senate, Republican presidential hopefuls Donald Trump and Texas Senator Ted Cruz headlined a rally on the steps of the Capitol—making opposition to the deal look even more partisan to wavering Democrats.
Aipac's traditional strength has been its bipartisan generosity. Its members raised and donated money to Republicans and Democrats. But that ability to straddle both parties made Aipac less nimble in the partisan battle over the deal and its aftermath. Steve Rosen, a former foreign policy director for Aipac, put it like this: "Aipac's enormity imposes constraints." It can't really write off Democratic deal supporters such as Wasserman Schultz and Senator Ron Wyden of Oregon. Many pro-Israel lobbyists say it's entirely unrealistic to expect Aipac to punish every Democrat who voted with Obama. They will still need Democratic votes for the remainder of Obama's term on any number of bills designed to deter bad Iranian behavior and support Israel.
But retribution may still occur. If Aipac is perceived as toothless, many top donors may choose to give elsewhere. Since the Supreme Court overturned many of the rules on political giving in the 2012 Citizens United case, Rosen predicts, "There is likely to be some nonattributable super PAC activity to go after some Democrats, but not everyone who crossed them." It will be those super PACs that will target the new Paul Findleys.
The question for Aipac now is navigating its relationship with the Democratic Party. Will there be a place inside Aipac's big tent for Americans who think Obama's deal enhanced Israel's security? Or will Aipac cultivate the next Schumer and Menendez to take the seats of the likes of Tester and McCaskill?
Rubin says that in the past, Aipac nurtured a "bipartisan framework" and "could take positions with minimal risks to its standing. But that's not the case anymore." To Rubin and Obama's strongest supporters, Aipac is no longer a truly bipartisan organization. Menendez, too, sees the lobby's dilemma. "If Aipac just wanted to be inside the tent with the administration, they could have taken a much easier road," he says. "The problem is being inside the tent doesn't get you what you need." Aipac must now choose whether it should battle the friends who defied it or repair the friendships that frayed this summer. It cannot do both.
Before it's here, it's on the Bloomberg Terminal.
LEARN MORE