Here's What It Costs to Protect Your S&P 500 Trade Before Fed
Hedging costs are double what they were when tapering started

VIX above 20 for 18 days is the longest stretch since 2012
How anxious are U.S. investors before Thursday's Federal Reserve rate decision? The price they're paying for protection against equity losses gives a good indication.
The cost to hedge against a 5 percent decline in the SPDR Standard & Poor's 500 ETF Trust for the next 30 days is 1.4 percent the spot price of the ETF, which tracks the benchmark index. That's double the cost before the last Fed meeting in July, and more than twice the price when the central bank began pulling back on its stimulus program in December 2013.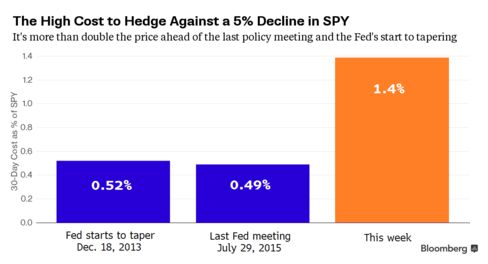 Goldman Sachs Group Inc. said Wednesday that financial markets are vulnerable because of disagreement about what the Fed will do. Confusion has placed a premium on S&P 500 hedges as money managers try to ensure they won't be stuck in the event of a selloff in the benchmark index following the Fed decision.
"Usually costs are lower going into these meetings," said Mark Sebastian, options trader and founder of Option Pit, a Chicago-based education and consulting firm. "That they're so high shows volatility is elevated, and that there are a lot of people carrying a lot of hedges."
The nervousness is most readily seen in the Chicago Board Options Exchange Volatility Index, which has traded above 20 for the past 18 sessions, its longest such streak since June 2012. Since 1990, the VIX has averaged 16.9 when U.S. policy makers started raising. The volatility gauge climbed 1.6 percent to 21.69 at 10:13 a.m. in New York, while the S&P 500 was little changed at 1,995.40.
The recent bout of volatility was ignited when the S&P 500 plunged 10 percent over four days through Aug. 25, the most in four years. Price swings have widened to 1.5 percent a day in the past month, compared with 0.6 percent over the first seven months of the year. Trading has been wild enough to prompt a debate on whether the markets themselves are enough to torpedo a Fed rates move on Thursday.
VIX 'Aftershock'
"Recent chatter has caused disproportionate pricing," said Jon Cherry, senior vice president of derivatives trading at Chicago-based TJM Institutional Services LLC. "The last 20 or 30 days of trading sessions have definitely caused people to reevaluate their stance on the Fed. It's very apparent that we're not out of the woods."
Jim Strugger, a derivatives strategist at MKM Holdings LLC in Stamford, Connecticut, said the market could see an "aftershock," perhaps following the Fed decision, that sends the VIX back up above 30. That would be an appealing "initial entry point," he wrote in a Sept. 15 client note.
Of the 10 main S&P 500 industries, none is attracting more attention than financials, according to Goldman Sachs. The Financial Select Sector SPDR Fund is pricing in a move of 2.2 percent in either direction for the next three days, compared to an average implied move of 1.4 percent leading up to the past seven Fed meetings, Goldman Sachs derivatives strategists Katherine Fogertey and John Marshall wrote in a client note.
As investors have reacted to their "intense downside fear," they've inflated the price of puts, the report said. Open interest on the contracts has more than doubled since falling to an eight-year low in January. Goldman Sachs sees "limited" downside risk and recommends that traders look to capitalize by selling these historically expensive puts expiring in October and November.
For the broader S&P 500, average short interest for individual companies has broken above 2.5 percent for the first time in more than three years, according to data compiled by Markit Ltd. The measure sits at 2.85 percent of shares, the most since September 2011, and three-quarters of companies in the benchmark index have seen short positions grow in the past three months, the data show.
"There's a lot of position hedging going into the meeting," said Alan Gayle, senior strategist for Atlanta-based Ridgeworth Investments, which has about $42.5 billion in assets. "All that suggests to me is that the market has no idea what the Fed is going to do. The best thing is to buy insurance."
Before it's here, it's on the Bloomberg Terminal.
LEARN MORE