Fired Lloyds Trader Too Quick to Allege Fraud, Investigator Says
Carlier suing bank over claims he was unfairly targeted

Made 34 internal complaints against the bank including fraud
An investigator for Lloyds Banking Group Plc told a London court that a former foreign-exchange trader suing the bank refused to help an internal probe that ultimately rejected his complaints.
Andy Horsley, a senior manager at the bank's group investigations team, said that Paul Carlier was too quick to accuse the bank of impropriety when he raised more than 30 concerns in October 2014 about pricing and margin levels, the accuracy of a trading platform that affected his performance and a bank transaction for Tesco Plc that he thought amounted to fraud. Horsley said he looked into 9 of the 34 allegations that Carlier made.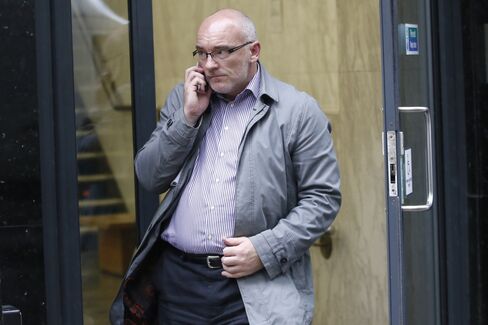 "Paul was very quick to point out that everything was fraud, I tried to manage his expectations," Horsley said while testifying on the second day of Carlier's London trial against the bank. "Some of the concerns lacked detail."
Carlier is one of many traders to sue their former companies in London's employment tribunals in recent weeks. Lloyds, Citigroup Inc., Royal Bank of Scotland Plc and HSBC Holdings Plc all have cases ongoing or pending. Andrew Reed, another fired Lloyds foreign currency trader, settled his suit with the bank before a trial was scheduled to start this week.
The decision to cut jobs in currency trading was made in June 2014, a month before Carlier raised concerns about the Tesco transaction, as central bank policy and increased capital requirements weighed on the department's profits.
Carlier, who had said he had taken 18 covert recordings of meetings which could prove impropriety, stopped co-operating with the internal investigation in late 2014 because he was unhappy with the bank's handling of his redundancy appeal, Horsely said.
One colleague described Carlier's trading as "undisciplined and unprofessional and more akin to gambling," in an interview with Horsley.
"It appeared that he wanted to hold back evidence," Horsley said in his witness statement. "I regarded Paul's approach as akin to "playing a game" and I informed him of that."
The internal investigation was concluded in May and Horsley dismissed all of Carlier's complaints.
"I took Paul's concerns seriously and devoted considerable time to the investigation," Horsley said in a witness statement. "His complaints were wide ranging, but ultimately I concluded that they lacked substance."
Before it's here, it's on the Bloomberg Terminal.
LEARN MORE