EU Crisis Firewall May Sell Non-Euro Debt in 2016, CFO Says
ESM seeks to diversify investor base outside euro area

CFO Christophe Frankel speaks in Luxembourg interview
The European Stability Mechanism may sell debt in a currency other than the euro for the first time in 2016, seeking to broaden its borrowing range three years after the firewall fund was created, according to Chief Financial Officer Christophe Frankel.
"We have plans to issue outside the euro," Frankel said in a Sept. 15 interview in his Luxembourg office. "We will try, maybe next year, to develop some funding in non-euro. It is good strategy in terms of investor-base diversification, so it makes sense for us."
After lending money to Greece, Spain and Cyprus, the ESM, with total subscribed capital of 704.8 billion euros ($793 billion), has become a regular player in European bond markets and its rescue efforts have enjoyed strong support. About half of the institution's investors come from the euro area, with another quarter coming from Asia and the remainder spread among the U.K., Switzerland and the rest of the world.
The timing may be right for the ESM, which has weighed selling non-euro debt since at least 2013, to finally take the plunge, according to Frankel. He declined to say in what denomination the fund would sell first but said it would target investor demand. The 19-nation currency has weakened 19 percent against the dollar since it traded at $1.39 in March 2014.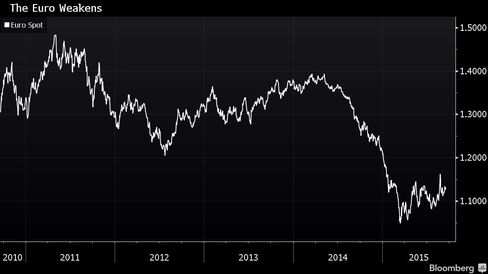 The ESM's long-term funding program increased to 23 billion euros following the extension of an 86 billion-euro bailout for Greece, which compares with 10 billion euros for 2015. The fund, rated Aa1 by Moody's Investors Service, the second-highest, has issued everything from short-term bills to 30-year bonds and sold 3 billion euros of 10-year notes on Wednesday with a 1 percent coupon.
Other agency and institutional EU borrowers, like the European Investment Bank and Germany's KfW Group development bank, have issued in other currencies like the U.S. dollar.
Because "current market conditions are favorable to the dollar," issuers have been shifting into non-euro markets, said Jean-David Cirotteau, head of supranational and agency bond-market strategy at Societe General SA in Paris. "When you start to reach a critical mass of debt, probably it's quite logical to consider diversifying into different currencies."
Since the fund tends to borrow in short- and medium-term markets to finance long-term rescues, the ESM may want to broaden its currency base to attract a more diverse pool of investors that may not want such long euro exposure. Frankel said Wednesday that the ESM used this week's 10-year bond sale to lengthen the average maturity of its debt, which will help keep fees low for the countries that get ESM rescue programs.
The fund targets buyers of high-quality, liquid investments and has a strategy similar to a sovereign issuer, Frankel said in the interview. "Our strategy is precisely to target investors which have needs for liquid paper," he said.
Before it's here, it's on the Bloomberg Terminal.
LEARN MORE