Economic Takeaways of U.S. Housing Starts, Unemployment Claims
Gain in authorized construction points to home starts rebound

Smaller lines to file for jobless benefits at state agencies
What you need to know about Thursday's economic data:
HOUSING STARTS (AUGUST)
Beginning construction of new homes dropped 3 percent to a 1.13 million annualized rate after downward revision to July


More permits were issued for single-family dwellings than at any time since January 2008

Number of apartment buildings under construction reached highest annualized rate since December 1974
The Takeaway: Housing starts cooled in August and were marked down for July, but a pickup in construction authorizations points to busier builder schedules in the months ahead. Applications for single-family houses, the largest and most economically important part of the residential real-estate market, reached a 699,000 rate, the strongest since the earliest days of the last recession. The fastest pace of construction on five-plus unit buildings in more than 40 years will help lay the ground for smaller rent increases as vacancy rates stand at their lowest since 1985.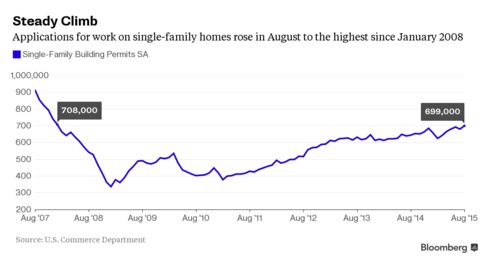 JOBLESS CLAIMS (WEEK ENDED SEPT. 12)
Applications for benefits fell by 11,000 to two-month low of 264,000

Week coincides with government's survey period for September jobs report

Filings are holding just above the lowest level (255,000) since November 1973
The Takeaway: The level of claims, fewer than any of the 47 economists surveyed had expected, indicates solid labor market conditions prevail as Federal Reserve officials conclude their two-day policy meeting hours from now. Claims in the survey week for September payrolls are down 13,000 from the same period in August, when employment climbed 173,000. There were no special factors or states estimated last week.
PHILADELPHIA FED FACTORY INDEX (SEPTEMBER)
Index fell to minus 6, showing manufacturing in the region shrank for the first time since February 2014. Readings lower than zero signal contraction
Bank's orders index climbed to 9.4, a three-month high
Employment index was the strongest since April
Outlook gauge hovered around the highest levels of the year
The Takeaway: Unlike last month when the Philadelphia Fed manufacturing index showed strength and the New York Fed gauge showed weakness, both were soft in September. Nonetheless, the weakness in the headline Philadelphia index wasn't confirmed by weakness in orders, sales or employment. The headline measure is a separate question and economists consider it more of a sentiment gauge.
Before it's here, it's on the Bloomberg Terminal.
LEARN MORE