Shipments to China hurt amid slowdown while U.S. demand rises

Export decline highlights risk of technical recession
What you need to know about this week's economic data from Singapore:
NON-OIL DOMESTIC EXPORTS (AUGUST)
Fell 8.4 percent from a year earlier, worse than the median estimate in a Bloomberg News survey for a 3.5 percent decline

Electronics and pharmaceuticals shipments fell; petrochemicals exports have declined every month this year

Exports to China and Europe slid; shipments to the U.S. gained
Non-oil exports fell 4.6 percent from July, compared with the median estimate for a 0.2 percent gain in a Bloomberg survey


The Takeaway: Exports weakened across most major products and destinations, possibly as a result of the reduced number of working days in August as the country took a four-day weekend to celebrate its 50th anniversary. Non-oil domestic shipments fell for a second straight month, suggesting manufacturing remained lackluster in the third quarter and a potential warning for those watching for a technical recession and monetary easing. Singapore's economy contracted in the three months through June.
Some signals from an economy that's sometimes considered a bell weather for Asian neighbors: Singapore's increased shipments to the U.S. and lower exports to China could be an indication of demand from the world's two biggest economies.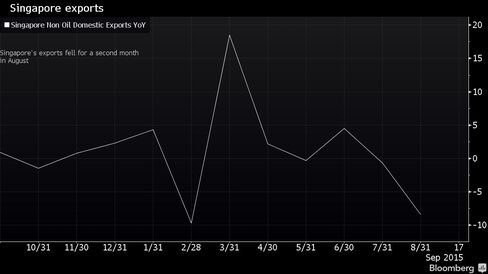 HOME SALES (AUGUST)
Developers sold 495 units compared with a revised 1,611 units in July
Seventh month of the lunar calendar year, known as the Hungry Ghost Month, is a time home buyers avoid property purchases
Frasers Centrepoint Ltd.'s North Park Residences sold 15 of the 320 units offered; Fernvale Development Pte sold 76 of 95 units marketed at a project.
The Takeaway: The August numbers signaled that Singapore's home sales have yet to recover after dropping to a six-year low last year amid government curbs to cool demand. Even so, analysts predict the pace of declines in the city's home prices needs to quicken before the government will roll back the restrictions.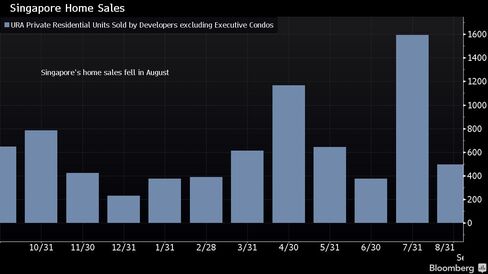 RETAIL SALES (JULY)


Retail sales rose 5.2 percent from a year earlier, compared with the 5.9 percent gain median forecast in a Bloomberg News survey

Motor vehicle sales rose 40.6 percent from a year earlier
Excluding autos, retail sales eked out a 0.8 percent increase


The Takeaway: Remove car sales from the equation and the retail picture looks soft. The price of Singapore car-permits, which are set twice a month in an auction, fell in July to the lowest since early 2012 in the category for the smallest cars after the government tightened restrictions on car loans.
Before it's here, it's on the Bloomberg Terminal.
LEARN MORE