Drahi Wants More U.S. Cable Deals After Buying Cablevision
French billionaire sees eventual entry into mobile market

Cost-cutting at Cablevision: `I pay as little as I can.'
French-Israeli billionaire Patrick Drahi said he isn't done buying U.S. cable providers and may eventually want to acquire a mobile-phone company.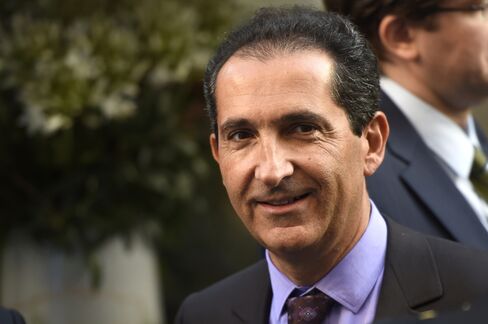 Speaking just hours after his European telecom company, Altice NV, scooped up Cablevision Systems Corp. in a $17.7 billion deal, Drahi said at a media conference Thursday in New York that he can "still grow the size of the business in the U.S." and that he saw "more opportunities to consolidate."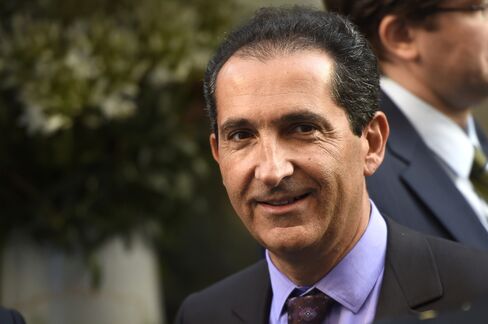 Drahi, who just months ago entered the U.S. cable market by taking a stake in smaller provider Suddenlink Communications, said "at some point" he would also like to own an American wireless provider, but said it would take some time.
"We are too small," he said on stage at the Goldman Sachs Communacopia conference. "We'll see if we can buy more cable systems before we go to mobile."
Asked after the conference which cable operator he'd like to buy next, Drahi answered: "All of them, basically."
Altice shares fell 1.9 percent to 24.03 euros at the close Friday in Paris. The stock has fallen 15 percent since Aug. 10, when a new entity containing Altice's assets began trading.
The billionaire, who is known for his cost-cutting approach to management, highlighted the "many layers of people who are very highly paid" at Cablevision.
"I don't like to pay salaries," he said. "I pay as little as I can."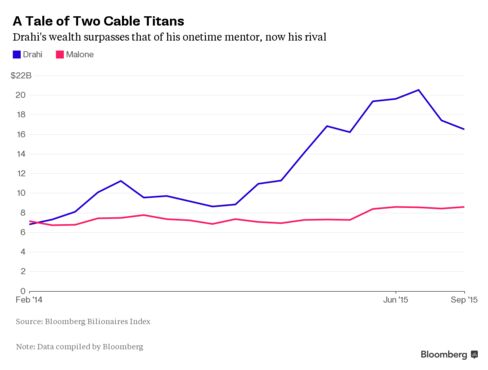 Altice, Europe's most acquisitive cable company, gets the fourth-largest cable provider in the U.S. with Cablevision. In the wireless market, Drahi's options are limited to three smaller operators, according to Jackdaw Research LLC analyst Jan Dawson: T-Mobile US Inc., partly owned by Germany's Deutsche Telekom AG; Sprint Corp., controlled by Japan's Softbank Group Inc. and TracFone, part of Carlos Slim's telecom empire.
"Realistically, there are only three options in the U.S. wireless market they could go for," Dawson said, adding that Deutsche Telekom has been looking for a buyer for T-Mobile.
T-Mobile would be the most attractive because it's gaining subscribers and returned to profitability last quarter. Sprint might not be on the market now that SoftBank President Masayoshi Son has publicly committed to turning around the struggling carrier.
Altice could also enter the U.S. wireless market by stitching together Wi-Fi and cellular networks, as Google Inc. has recently done with its service, Project Fi, said Kevin Roe of Roe Equity Research LLC in Dorset, Vermont.
"I don't think it is a necessity for Altice to go out and buy T-Mobile; he has many other options," Roe said.
Annie Garrigan, a spokeswoman for T-Mobile, declined to comment, so did Sprint spokesman David Tovar declined to comment. TracFone representatives didn't immediately respond to messages seeking comment.
In the Cablevision deal, Altice teamed up with BC Partners and CPP Investment Board, which have an option to buy as much as 30 percent of the U.S. cable company. Eventually, after it has digested the Cablevision and Suddenlink acquisitions, Altice might seek to list its American assets in the U.S., said its chief executive officer, Dexter Goei.
"It's not something that we like to do as we go through the integration processes, but thereafter, we'll clearly be looking at that," Goei said on a conference call with analysts earlier Thursday. "Particularly since we have two private equity partners, who at some point want some liquidity."
(An earlier version of the story corrected T-Mobile's part-owner.)